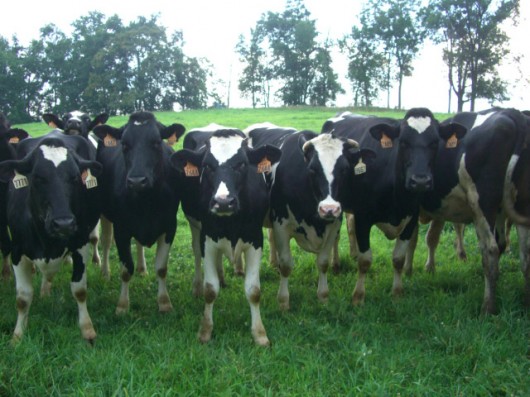 Maybe you've had raw milk, seen it for sale in your local health food store, or know families who swear by it.  But is it healthier than pasteurized milk?  And more importantly, is it safe?
In my opinion, no. (This also happens to be the opinion of the FDA, public health officials, and most dietitians and doctors).  Raw – aka unpasteurized – milk that is produced under extremely clean conditions at a licensed dairy and stored properly until the moment it's consumed is probably safe.  But determining whether the raw milk you buy and consume has met all of these criteria is nearly impossible.  And the risks you're taking by assuming it's safety far outweigh the possible benefits of drinking raw milk.
Here are answers to some of the most common questions about raw milk.
What is raw milk?
Milk that has not been pasteurized.
What is pasteurization?
A heating process designed to kill potentially harmful bacteria (like salmonella and E. coli 0157:H7 – the most dangerous kind of E.coli) in milk.  Pasteurization also increases the shelf-life of milk because the bacteria in raw milk make it spoil faster.
Does pasteurization make milk safer?
Yes.  Before the FDA began requiring that milk be pasteurized, raw milk accounted for 25% of food and water-borne illness outbreaks.  Now, dairy products account for only about 1% of outbreaks (mostly from raw milk cheeses and improperly stored milk).
Does pasteurization remove the nutrients from milk?
Research shows that pasteurized milk is nutritionally similar to raw milk.  Proponents of raw milk argue that food in it's most natural form is always more nutritious, and that the heating process makes pasteurized milk less nutritious.  This may be true, but since Americans get a wide variety of nutrients from a wide variety of foods, the benefits of drinking raw milk do not outweigh the risks.
Why is drinking raw milk risky?
Milk that has not been pasteurized can contain harmful bacteria such as Salmonella, E. coli, and Listeria, which are responsible for causing numerous food-borne illnesses.  These bacteria are especially dangerous for children, pregnant women, and the elderly, and can lead to hospitalization, kidney failure, and even death.
Why do people drink raw milk?
Some people believe that raw milk tastes sweeter and fresher, and that it's nutritional properties can help various health conditions.  Farmers who produce raw milk may also feel that it is safe due to their careful attention to cleanliness and safety.
Is it legal to sell/buy raw milk?
Every state is different.  Here's a map which describes the specific laws in each state.  (Please note: this map is produced by an organization in favor of raw milk consumption).
So should I drink raw milk?
Every person or family needs to make the decision they feel most comfortable with.  Personally, I will not be buying raw milk, and after seeing a friend of mine's child suffer from E.coli and kidney failure after drinking raw milk, would never give it to a child.  But, this is an individual choice.