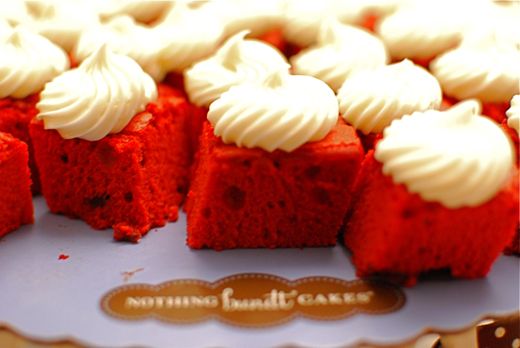 Red Velvet is one of America's favorite cake flavors, but even a glance at this brightly colored treat should get you wondering: how exactly do they make it so red?
Simple:  GOBS of red food dye.  Most recipes call for 1/4 to 1/2 cup of red food coloring, which is a HUGE amount given that just a few drops of red food coloring is enough to turn white icing or batter a bright pink color.
So what is red food coloring, anyway?  In the U.S. it's an artificial petroleum-based dye that goes by the following names:
Allura Red AC
Food Red 17
C.I. 16035
FD&C Red #40
Supposedly, Red #40 is edible and safe, but research has shown that it does increase hyperactivity in some children, and at concentrations as high as those found in Red Velvet cake, I would question how safe it really is.
My recommendation would be to opt for chocolate or vanilla flavors when you need a cake fix.  There's just no point to eating red velvet, especially when most people agree that the taste is indescribable beyond "somewhere between chocolate and vanilla."
Here's a little more on the history and make-up of Red Velvet Cake if you're still curious, and if you passionately disagree or have other thoughts, please do share!