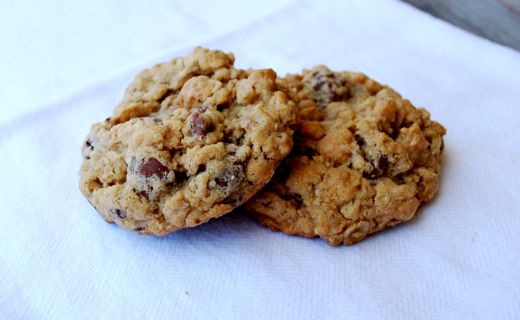 Looking for a cookie that people can't stop talking about?  This is it.  They're traditional enough to be a crowd-pleaser, but also have a few unique twists that keep people interested.  I've been making these cookies for over 10 years, and they're a hit every time.  Try them for a holiday cookie exchange, party, or to leave out for Santa on Christmas Eve (you'll surely get an extra present or two!).
The Perfect Cookie
Ingredients
2 Large Eggs
2 teaspoons Vanilla Extract
¼ cups Sugar
1 ¼ cups Dark Brown Sugar, packed
1 cup Unsalted Butter, at room temperature
1 teaspoon Cinnamon
¼ teaspoon Ground Nutmeg
1 ½ cups All Purpose Flour
1 teaspoon Baking Soda
1 ½ teaspoon Kosher salt
½ cup Golden Raisins
½ cup Walnuts, chopped (optional)
3 cups Rolled Oats
2 cups Chocolate Chips
1 cup Butterscotch chips
Instructions
Preheat oven to 325. Using a stand mixer, cream together butter and sugar until smooth. Add vanilla and eggs and beat until combined, scraping down sides so everything gets mixed in.
In a separate medium bowl, stir together the flour, baking soda, cinnamon, nutmeg, and salt. Add this dry mixture to the butter mixture a little at a time with the mixer on low, until just combined.
With the mixer on low, add the oats a cup at a time until just incorporated (careful not to overmix). Remove mixing bowl from stand mixer and gently stir in chocolate & butterscotch chips, raisins, and nuts by hand with a spatula or wooden spoon.
Cover 2 baking sheets with parchment paper. Using a small ice cream scoop, scoop balls of the cookie dough onto the baking sheets a couple inches apart. Gently press down on the dough balls with your fingers to flatten slightly. Bake for 12-15 minutes or until cookies are golden brown on the edges but still soft in the middle. Cool for at least 5 minutes before digging in!