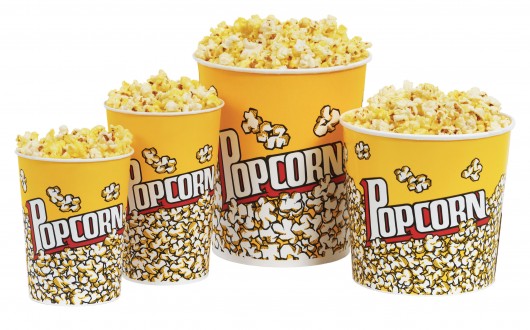 Is a bucket of popcorn part of your regular movie-going routine?  After a quick glance at it's outrageous nutritionals, you may reconsider buying even a small tub.  Here are a few examples of just how bad it can be:
Large Tub: 1,200 calories, 980 milligrams of sodium, 60 grams of saturated fat (yes, that's 60 GRAMS OF SATURATED FAT, a.k.a 4X MORE THAN YOU SHOULD EAT IN A DAY).  Add just a tablespoon of butter and you get 130 more calories.
Medium Tub: the only difference between this and the large, is that it comes in a bag.  Same portion size, same nutritional facts.
Small Tub: 670 calories, 550 milligrams sodium, and 24 grams saturated fat.
Large Tub: 1,030 calories and 57 grams of saturated fat (equal to a pound of babyback ribs + a scoop of Haagen Dazs ice cream, but with an additional day's worth of saturated fat).
Medium Tub: 590 calories and 33 grams of saturated fat.
Small Tub: 370 calories and a day's worth—20 grams—of saturated fat.
Think you're safe because you don't frequent either of those two movie chains?  The rest are no better.  See a full comparison, along with other scary movie snack nutrition facts, here in CSPI's report.
But What If You Looooove Popcorn??
Make it at home for a snack sometime!  Popcorn is actually a healthy choice when you pop it yourself.  And you can add plenty of yummy things without making it a calorie nightmare.  My favorite way to eat it is with grated Parmesan cheese and chopped fresh herbs (just mix these two things together with a little salt, then drizzle plain popcorn with 1 tsp olive oil and toss it all together).  You can also get some low-calorie popcorn seasonings for your homemade popcorn, like Kernel Season's, one of my other favorites.  First you spray your plain popcorn with their popcorn spritzer:
Then add one of their delicious, low-calorie popcorn seasonings:
Now you've got tasty, flavorful popcorn that's still low in calories.
Want to win FREE Kernel Season's popcorn spritzer and seasonings???
Simply leave a comment on this post telling us your favorite movie and you'll be entered to win!
Winner picked Monday May 23rd.
**popcorn image above taken from Food Marathon**