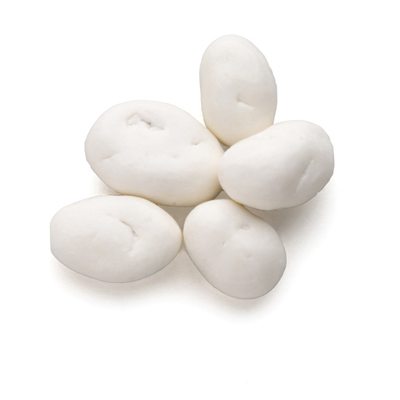 Yogurt is healthy.  Raisins are healthy.  Yogurt covered raisins, however, are far from healthy.
Why?
Because they're not truly yogurt covered.  The white coating is actually made from the following:
Sugar, Partially Hydrogenated Palm Kernel Oil, Nonfat Milk Powder, Yogurt Powder, Whey, Titanium Dioxide, Soy Lecithin, Vanilla, Confectioners Glaze, Corn Syrup, Dextrin, and Maltodextrin
In a quarter cup of these little guys, which is a serving, you'll find:
5g fat
4g saturated fat
19g sugar
0-1g fiber
Sounds a lot more like candy – and not really even natural candy – than yogurt + dried fruit.
If you like yogurt covered raisins, no need to freak out.  Just make sure you're considering them a very occasional treat (think M&Ms) as opposed to a healthy choice.
For a truly healthy snack, sprinkle 2 Tbsp raisins into 6 oz plain yogurt or Greek yogurt.  Now those raisins will be yogurt-covered!