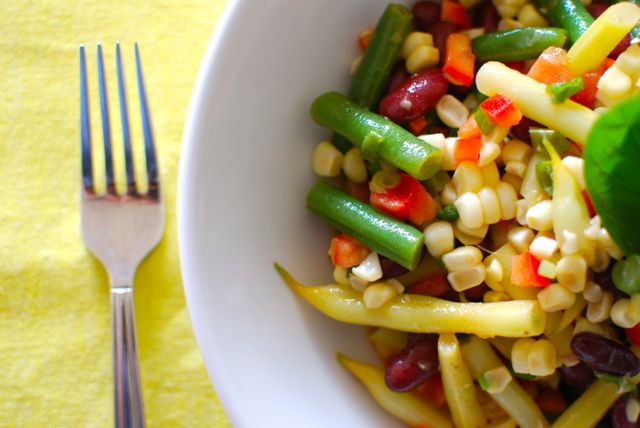 I get a little sad around this time of year. With summer coming to a close and cherry/peach/corn season on it's way out, I can't help but mourn the loss of the produce I've gotten so accustomed to over the last few months.
Of course it's not completely over yet. And summer's offerings will be back again next year. But for now, I'm holding onto it all as long as I can.
Today, that means making a fresh bean salad.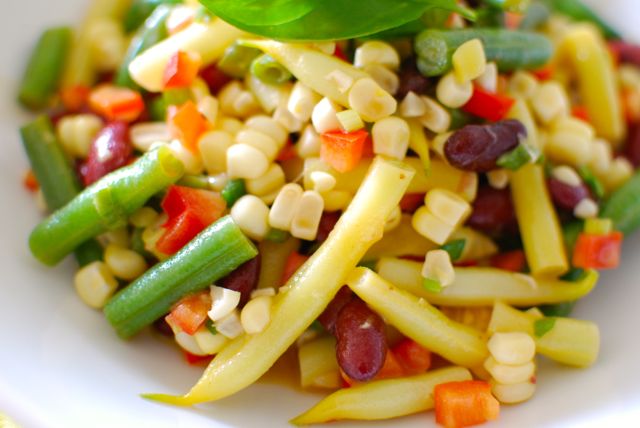 I'll be honest: Green beans are not my favorite vegetable. But when they're marinated and combined with sweet corn and lots of fresh herbs, they really come alive.
This has thus become one of my favorite summer salads. And it's perfect for Labor Day BBQs and picnics!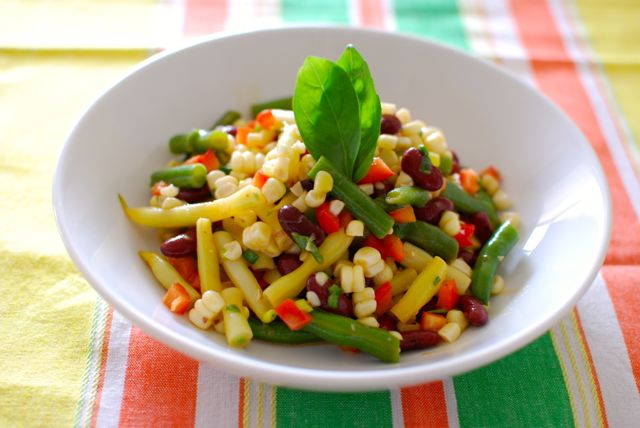 Fresh 3 Bean Salad
The perfect way to capture the flavors of summer!
Ingredients
Juice of 1 lemon
1 Tbsp red wine vinegar
1 tsp salt
3 Tbsp extra virgin olive oil
¼ tsp ground black pepper
1 Tbsp Dijon mustard
2 Tbsp sugar or honey
1 lb green & yellow beans
1 can organic kidney beans, rinsed and drained
Kernels from 3 ears of fresh cooked corn
1 small red bell pepper, diced
3 green onions, thinly sliced
1 handful fresh basil or parsley leaves, rough chopped
Instructions
Steam green & yellow beans for 3-4 minutes then place in an ice bath to stop the cooking. Beans should be crisp tender.
Meanwhile, whisk together the lemon juice, vinegar, olive oil, salt, pepper, and sugar in the bottom of a large bowl.
Add the kidney beans, corn kernels, diced bell pepper, and green onions to the bowl with the dressing.
After they've cooled, drain the green & yellow beans well, then add them to the bowl with the fresh herbs and toss to combine everything.
Let the salad marinate for at least 2 hours, tossing every once in awhile. Serve at room temperature, or store in the fridge and serve slightly chilled.
Notes
Note: the salad will get more flavorful as it sits. Keep in the fridge up to 3 days.