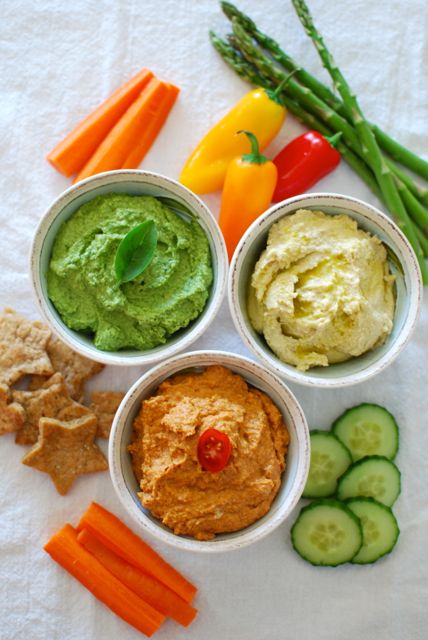 I've always loved inviting Lucy to "help" me in the kitchen, but it's become even more fun over the last six months when she can really take part in the creation of our family's food.
Most recently, we made Three-Color Hummus from the new Straight From the Earth cookbook (by Myra & Marea Goodman, the Earthbound Farm founding family).
[Keep reading to see how you can win one of three copies of the book!]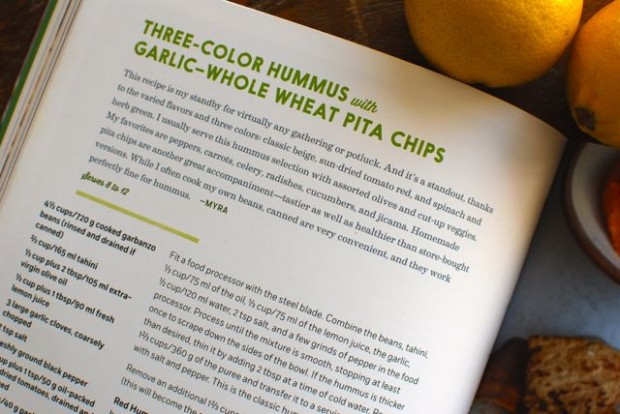 All three of the hummus versions were delicious.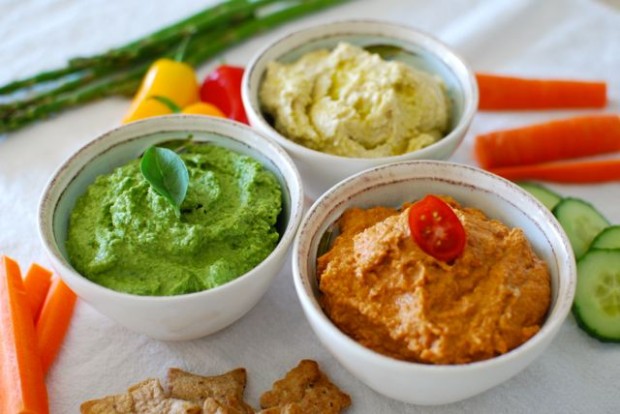 Cooking with a toddler definitely makes for a bigger mess. We had hummus and all it's ingredients glued to every part of the kitchen after making this recipe. But Lucy had an absolute blast being in charge of the food processor (after she got used to it's noise).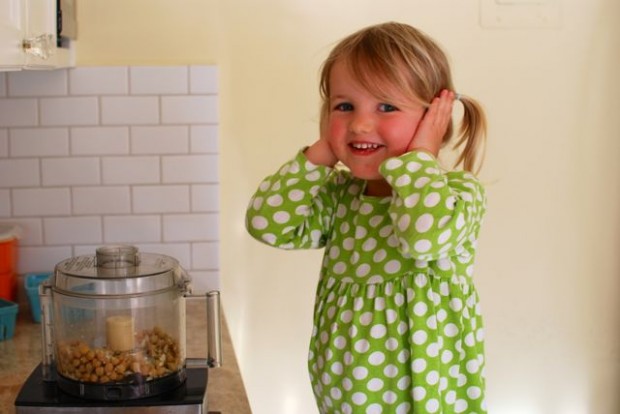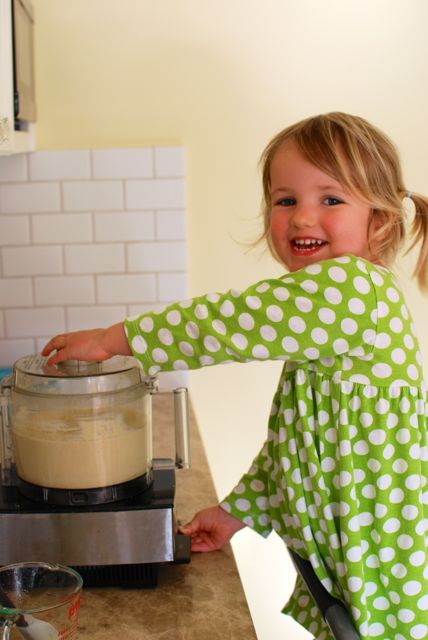 And she happily munched on veggies dipped in "her" hummus at dinnertime. Which of course made the mess totally worth it.
Though the recipe in the book calls for flat leaf parsley (in the green hummus), we used basil and scallions instead, since Lucy was desperate to do some cutting in the "garden" (a.k.a. the planter box on our deck) and that's all we have growing.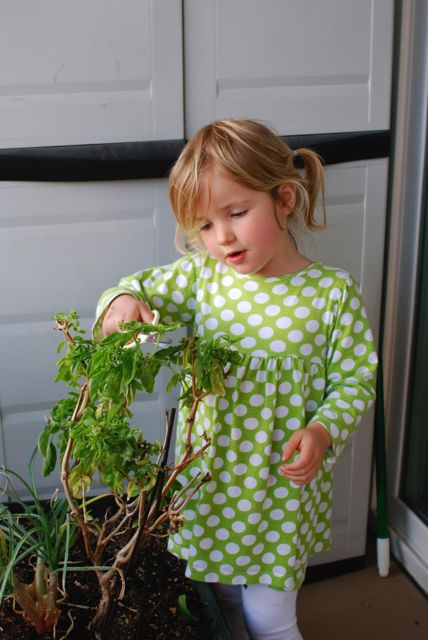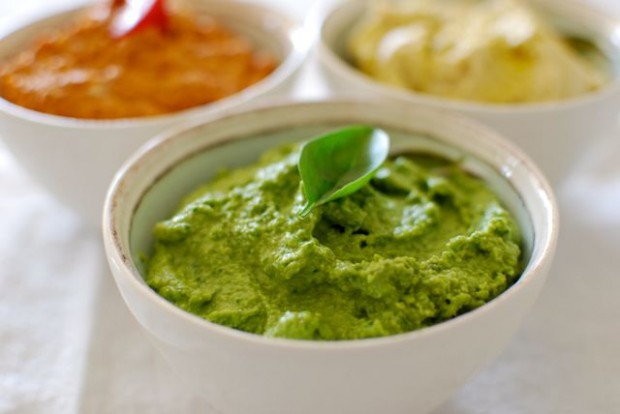 These hummus dips are fabulous when eaten with fresh veggies or Myra's garlic pita chips (which we of course had to cut into shapes).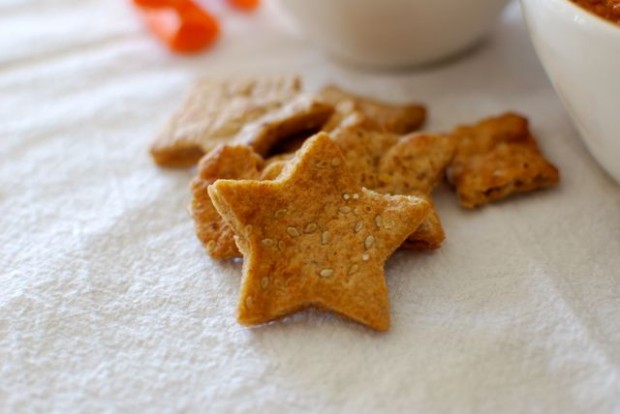 Want to win this cookbook?
GIVEAWAY OVER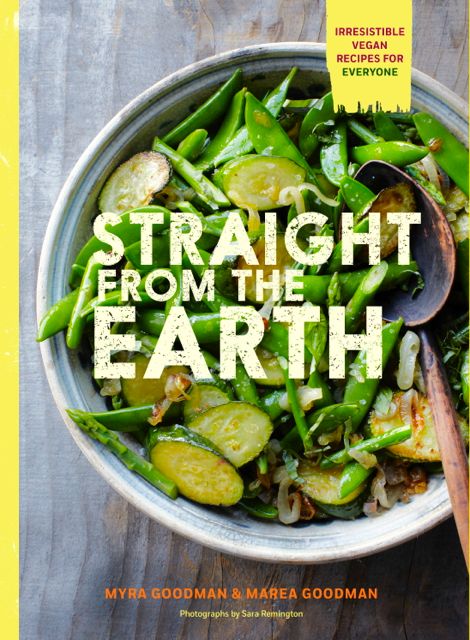 Simply leave a comment on this post with your favorite vegan recipe or dish, or what you like to make with your kids, and you'll be entered to win.
Get up to 3 extra entries by sharing a link to this post on Facebook, Twitter or Pinterest (make sure to leave a comment saying you did so).
Winner will be randomly selected on Thursday March 27, 2014.
GIVEAWAY OVER
Three-Color Hummus
The perfect appetizer to eat with your favorite veggies and chips!
Ingredients
4½ cups cooked garbanzo beans (rinsed & drained if using canned)
⅔ cup tahini (sesame paste)
⅓ cup + 2 Tbsp extra virgin olive oil
⅓ cup + 1 Tbsp fresh lemon juice
3 large garlic cloves, coarsely chopped
2 tsp salt
Freshly ground black pepper
¼ cup + 1 tsp oil-packed sundried tomatoes, drained and chopped
1¼ cups packed baby spinach leaves
½ cup packed fresh flat-leaf parsley
Pita bread, pita chips and/or vegetables for serving.
Instructions
Fit a food processor with the steel blade.
Combine the beans, tahini, ⅓ cup of oil, ⅓ cup lemon juice, garlic, ½ cup water, 2 tsp salt and a few grinds of pepper in the food processor. Process until the mixture is smooth, scraping down the sides when necessary.
If the hummus is thicker than desired, thin it by adding 2 Tbsp at a time of cold water.
Remove a third of the puree and transfer it to a serving bowl. This is the classic hummus.
Remove an additional 1⅔ cups of puree and set aside (this will become the green hummus).
Add the sundried tomatoes and 2 Tbsp water to the hummus remaining in the food processor. Blend until smooth, then transfer to a serving bowl.
Rinse the food processor bowl and blade. Place the spinach and parsley in the bowl and pulse until the mixture is finely chopped. Add the reserved plain hummus, remaining 2 Tbsp oil and 1 Tbsp lemon juice. Process until smooth. Season with salt & pepper and transfer to a serving bowl.
Serve with desired veggies and pita chips.
Nutrition Information
Calories:
70
Fat:
4 grams
This post and giveaway is sponsored by Earthbound Farm. Thank you for helping to support my blog!