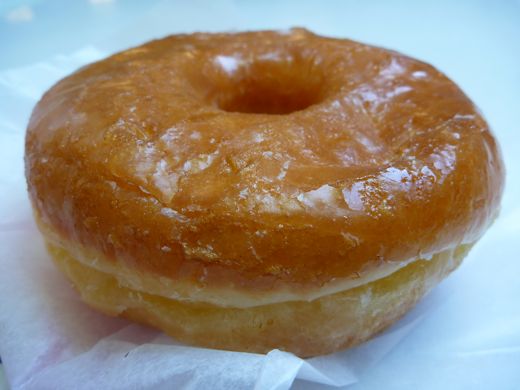 Today we spent a few hours at one of our favorite foodie spots: The Farmer's Market at The Grove.  This place has so many incredible options for food, it's hard to pick where you want to eat…which is why we stayed long enough to eat twice.  We began the day with coffee and glazed donuts (still warm) at Bob's Donuts, an LA institution.
Clearly, we both enjoyed this treat very much….
We were tempted to get more, but settled on walking around for a few hours to work up an appetite for something else.  On our way out to The Grove, we passed this gigantic squash — no idea what kind this is but it was huge!
It was a beautiful day, so we spent most of our time walking and reading the paper out in the warm sun.
And then we were ready to eat again.  So we headed to Loteria Grill, which I'm convinced has some of the best Mexican food in LA.  Tyler couldn't decide what he wanted, so we ordered the Probaditas taco sampler which includes mini versions of all 12 of their tacos.
There was not a thing on this platter we didn't love, but my absolute favorites were the Mushroom with Epazote
and the Chipotle Chicken with Chorizo.
Tyler was a huge fan of the Abondigas (meatball) in Chipotle sauce,
and the Pulled pork with citrus-picked red onion…
and of course, the Horchata.
All in all, it was an incredibly tasty day at the Farmer's Market.  I highly recommend a trip!