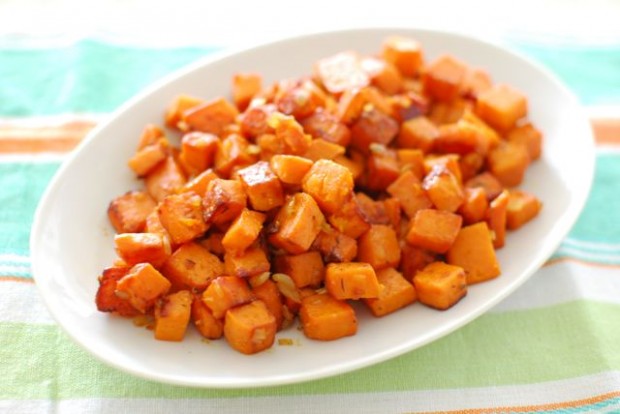 I always hear people raving about the Sweet Potato Hash at True Food Kitchen. So last time I ate there, I ordered this famous hash for "research purposes" and went home to start recreating it in my own kitchen.
This version of sweet potato hash is quick, simple and if I may be honest, tastes even better than the original hash I had at the restaurant 🙂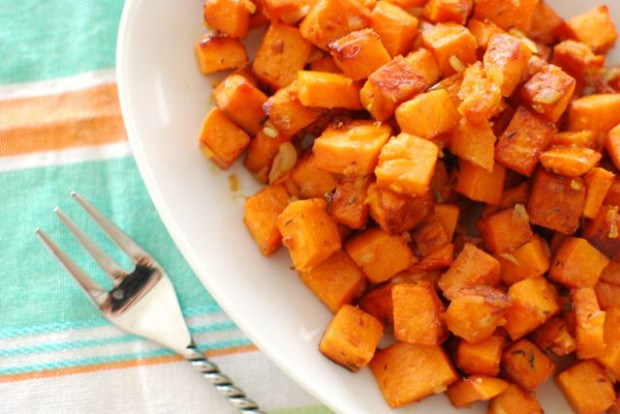 Make this at home to accompany turkey burgers (what they serve it with at True Food Kitchen) or any other warm winter meal.
Sweet Potato Hash
If you love the sweet potato hash at True Food Kitchen, you'll love this!
Serves:
2 side dish servings
Ingredients
1 Tbsp olive oil
1 large sweet potato or yam, peeled and cut into small (1/4-1/2 in) cubes
½ a small onion, finely chopped
1 garlic clove, minced
½ tsp dried thyme
⅓-1/2 cup vegetable or chicken broth
Salt & pepper to taste
Instructions
Heat a large nonstick skillet over medium heat for 2-3 minutes. Add oil and swirl around the pan.
Add onion and sauté for 2 minutes or until it begins to soften, then add sweet potatoes and stir.
Cook potatoes for 2-3 minutes, without stirring, until they begin to brown, then toss and cook another 2-3 minutes without stirring.
After sweet potatoes have a slightly brown look on their edges, stir in thyme plus a sprinkle of salt & pepper and cook 1 minute.
Add broth and garlic, stir, then cover skillet with a lid and reduce heat to medium-low.
Let cook for 3-4 minutes, then remove lid and gently toss.
Replace lid and cook an additional 3-4 minutes or until brother has been absorbed and sweet potatoes are tender when poked with a fork.
Remove from heat and serve immediately.
Notes
Be sure not to over-stir this dish, and to let the potatoes brown in the pan so they don't get mushy.