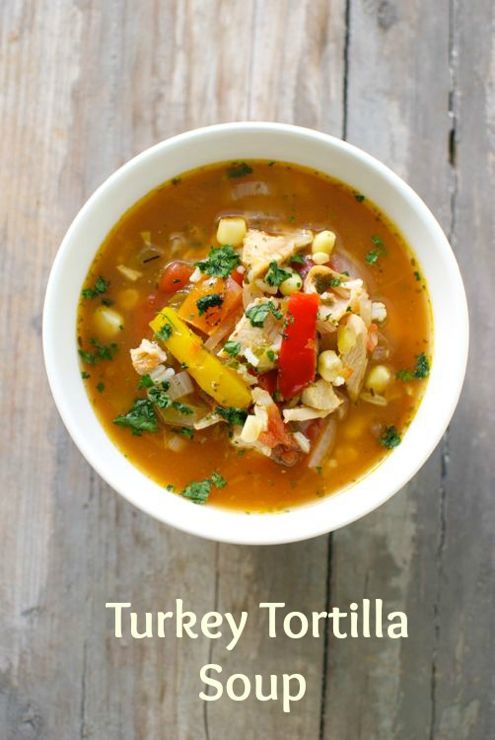 As much as I love the holidays, I love getting back into a normal healthy routine in January. After weeks of indulging, it feels really good to reign things in, to eat a little lighter, and to restart the habits that bring out the best in our minds and bodies. Don't you agree?
In celebration of healthier habits, I'll be posting a wide variety of light and healthy (yet warm and comforting) recipes over the next couple of months. Whether you're trying to lose weight or just want to make some new meals for your family this winter, I think you'll like what's coming!
First up: Turkey Tortilla Soup, which I make anytime we have leftover turkey or chicken. (You can also easily make this vegetarian by using white or black beans or crumbled tofu).
We love this Turkey Tortilla Soup recipe because it's 1) healthy, 2) is very satisfying despite being light, 3) uses only frozen veggies + an onion), 4) gives leftovers a whole new life since the flavors are so different from regular roast turkey or chicken.
If you don't have corn tortillas at home, just swap cooked rice, quinoa or any other cooked grain you like. This soup works with just about anything, so take advantage!
Turkey Tortilla Soup
The perfect way to use leftover turkey or chicken in a whole new way.
Ingredients
1 Tbsp oil
1 onion, chopped
1 bag frozen bell pepper strips
2 cups frozen corn kernels
1 tsp dried oregano
2 tsp ground cumin
1 14-oz can fire roasted diced tomatoes
6 cups water + 1 Tbsp Vegetable Better Than Bouillon OR 6 cups low sodium vegetable broth
2 cups cooked shredded or cubed chicken or turkey (or 1 can drained white beans)
1 handful fresh chopped cilantro, or 1 Tbsp Gourmet Garden lightly dried cilantro
3 corn tortillas, cut into thin strips, or 1½ cups cooked rice or other grain
Juice of ½ a lime
Instructions
Heat oil in a large heavy-bottomed pot over medium heat.
Add onion to pan and sauté for 3-4 minutes, then add the bag of bell pepper strips and continue to sauté until the veggies soften.
Add oregano, cumin and corn and sauté another minute, then add the canned tomatoes and broth and let cook until simmering.
A few minutes before serving, add the turkey, cilantro, lime juice and tortillas and cook until everything is hot.
Serve with tortilla chips, avocado, and/or a dollop of Greek yogurt
Notes
Make this soup vegetarian or vegan by swapping the turkey for white beans or crumbled tofu.