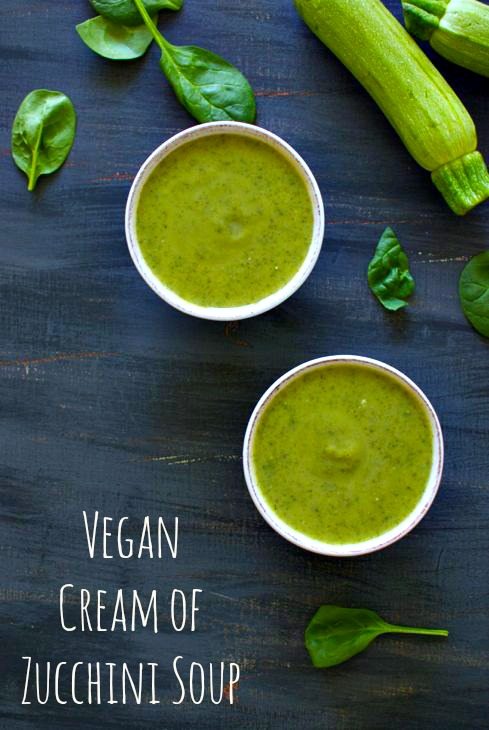 More and more I find myself looking for recipes I can make quickly and in one pot or pan. I just don't have time for anything else!
Thus, we've been eating lots of simple soups and sautés, which thankfully are just as delicious and nutritious as more lengthy recipes with more ingredients.
In the spirit of Earth Month, I've also been trying to make mostly vegetarian meals, since eating a plant-based diet is one of the best ways to reduce one's carbon footprint in the kitchen.
This creamy zucchini soup is all of these things – simple, quick, made in one pot, and vegan. Yet it's so flavorful, smooth and satisfying that you feel like you're eating something rich that's been simmering on the stove all day. What's not to love?
This recipe will get even better as we get into the summer months and zucchini is at it's peak flavor and tenderness. Enjoy!

Vegan Cream of Zucchini Soup
An easy spring or summer soup that's completely plant-based and ready in a flash!
Serves:
6 main dish servings
Ingredients
1 small onion, cut into quarters
3 cloves garlic
6 medium zucchini, cut into chunks
3-4 cups vegetable broth
1 handful baby spinach leaves
1 cup coconut milk
Salt & pepper to taste
Instructions
Place onion, garlic, zucchini and 3 cups broth in a large pot over medium heat. Bring this mixture to a boil then reduce heat to low and let simmer, partially covered, for about 25 minutes or until vegetables are very tender.
Remove pot from heat, add spinach leaves and coconut milk, then blend with an immersion blender until soup is smooth and creamy. Add more broth or water if soup is too thick.
Season with freshly ground black pepper and salt if desired (I didn't add any additional salt).
Serve as is, or with a drizzle of olive oil or a little more coconut milk.