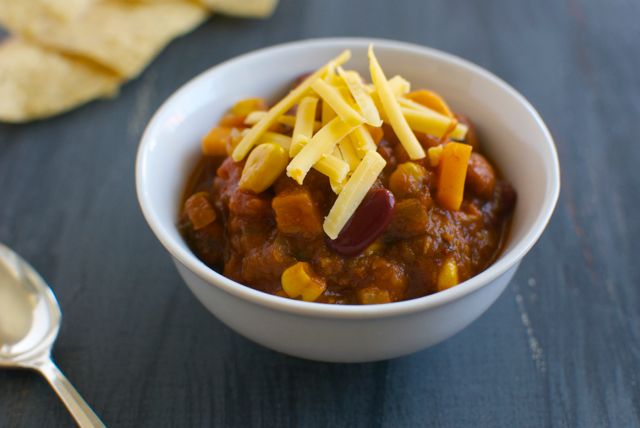 We had the best vegetarian chili in Santa Fe. The flavor was so deep and smoky that it tasted almost like BBQ. Below is my similar veggie chili recipe (with the most amazing cornbread!) that you can easily whip up at home. This recipe may seem like it has a lot of ingredients, but it's very easy, and you can substitute any of these veggies for ones you have on-hand.
Now for the cornbread…..
This sweet and cheesy cornbread is the only recipe you'll ever need. It's perfect in every way, if you ask me 🙂
Next time you're craving something hearty yet healthy, with a Southwestern kick, make this combo – you won't regret it!
Easy Vegetarian Chili
A sweet and smoky chili recipe that's so hearty, you won't even notice it's vegetarian.
Ingredients
1 large onion, chopped
2 large carrots, chopped
2 stalks celery with leaves, chopped
1 large bell pepper, any color, chopped
2 chipotle peppers, canned in adobo sauce – chopped (may substitute 1 Tbsp chili powder)
1 Tbsp cumin
½ tsp ground ginger
one 15 oz can kidney beans, rinsed and drained
one 15oz can black beans, rinsed and drained
one 15 oz can vegetarian refried beans
one 28 oz can diced tomatoes (fire roasted if you can find them)
one 6 oz can tomato paste
1 cup water (add more if necessary)
1 cup frozen corn kernels
1 sweet potato or yam partially-cooked and cut into chunks (poke & microwave 3-4 min)
1 Tbsp brown sugar
1 Tbsp semi-sweet or dark chocolate, chopped (chips are easy)
2 Tbsp apple cider vinegar
Instructions
In a large pot, sauté chopped onion, carrot, celery, and bell pepper with a pinch of salt for 5-8 min, or until beginning to soften.
Stir in the cumin, ginger, and chipotle pepper & saute one minute, then stir in the tomato paste.
Add the beans, canned tomatoes, and water and let simmer for until gently bubbling.  Then add corn, sweet potato, brown sugar, and chocolate.
Stir, then let simmer over low heat for ~30 minutes. Before serving, add the apple cider vinegar (more to taste, it adds tang).
Serve with a dollop of Greek yogurt, fresh chopped cilantro, and cornbread.
Notes
If your soup ends up spicier than you'd like, add the juice of a lime or more apple cider vinegar, which will help neutralize the spice.
Healthy Cheddar Cornbread
Author:
Prep time:
Cook time:
Total time:
Easy cheddar cornbread – doesn't get better than this!
Ingredients
1 1/2 cups finely ground cornmeal
1 cup whole wheat pastry flour (or white whole wheat flour)
2 tsp baking powder
1 tsp baking soda
1 tsp Kosher salt (or 1/2 tsp table or sea salt)
1/4 cup canola oil
2 eggs
2 Tbsp honey
1 1/4 cup low-fat buttermilk
1 cup frozen corn kernels (not thawed)
3/4 cup shredded extra sharp cheddar cheese
Instructions
Preheat oven to 375. Spray an 8×8 baking dish with nonstick cooking spray.
In a large bowl, whisk together oil, eggs, and honey. In a separate bowl, combine cornmeal, flour, baking powder and soda, and salt.
Add half the dry ingredients to the wet, then stir in half the buttermilk. Toss the corn kernels with the remaining flour and add to the mixture along with the remaining buttermilk, then fold in the shredded cheese.
Pour batter into the greased pan and bake for 30-35 minutes or until a toothpick inserted into the center comes out clean.
More photos from our trip to New Mexico….
View all of our pictures from New Mexico.