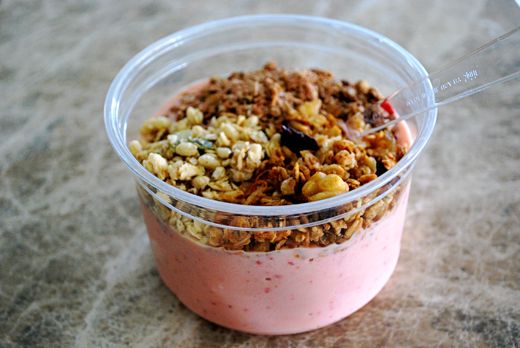 Research shows that people who eat about the same on weekends as they do on weekdays are more easily able to maintain a healthy weight.  In the spirit of this, I like to create weekend breakfasts that are healthy and moderately-portioned, but dressed up a bit to feel more special.
Recently I've been making "Smoothie Bowls," which are just smoothies served in a bowl instead of a cup, with granola on top.  My smoothies are always packed with frozen berries and ice, plus some frozen banana, plain yogurt, and vanilla soymilk – so they're high in fiber and protein, but low in sugar – just what you need for taste and energy on a busy (or leisurely) morning.
The other day I had a little bit left of a few different types of granola — my homemade granola, Nature's Path Pumpkin Spice Flax granola, and Nature's Path new Love Crunch (which is insanely good) — so I sprinkled a granola trio on top of my smoothie.
Just this simple switch-up made me feel like I was eating a real treat for breakfast instead of the usual go-to.
Do you have any weekend breakfast traditions that don't ruin your healthy eating routine?