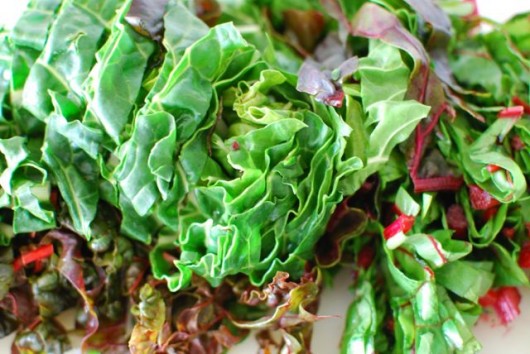 Buy a few fresh veggies veggies at least once a week, then wash and chop them right when you get home from the store. 
(Another option: buy pre-washed, pre-cut veggies. This is more expensive and uses a lot more packaging, but if it means you'll eat more vegetables, it's probably worth it).
How will this help you lose weight? Because then you…
Have veggies ready for snacking when you're starving and would otherwise reach for higher calorie foods
Can throw together a salad in minutes.
Don't have to spend as much time making dinner every night.
Can quickly turn the veggies into any number of meals: soups, omelets, frittatas, sautés, etc.
Will end up eating more vegetables!
What are the best vegetables to buy?
For snacking: carrots, celery (store them in water after they're cut), snap peas, snow peas, jicama, bell peppers, broccoli and cauliflower florets, fingerling potatoes (steam them for a few minutes in the microwave)
For salads: lettuce, baby spinach, kale or arugula, to which you can add any vegetable or fruit, small serving of protein (fish, chicken, meat, beans, tofu) plus a sprinkling of nuts, cheese, dried fruit, and a store-bought or homemade dressing. Some of my favorite salad ingredients: green onions, apples, pears, cucumbers, shredded carrots, shredded cabbage, avocados, and beets. Here are my tips for making a great salad.
For cooking: carrots, celery, onions (chop a cup of each and use as a base for any soup, stew, or sauce), zucchini, eggplant, bell peppers, squash, leafy greens, potatoes or sweet potatoes, and canned tomatoes.
Resist the urge to buy tons of produce every week, or it will likely go to waste. 3-4 fresh veggies should be plenty for snacks, salads, and meals. If you're afraid you'll run out or want to supplement these, keep a few bags of frozen vegetables in your freezer.
See you tomorrow for Day #2 of Weight Loss Week!