Many Americans are becoming more socially conscious food shoppers.  But all the different labels on food packages can get confusing!  Here are a few of the most common terms and what they mean:
Natural — This term means nothing!  The term "natural" is unregulated, over-used, and doesn't necessarily mean that a product is any healthier or better than one that doesn't say natural.
Local — there are no consistent standards for this, but many grocery stores use this term to help guide you by stating which products come from your area (could be region, state, etc).  This is an especially helpful term for produce, because local produce will taste better than produce that's traveled far; plus you'll be supporting your local economy, an eco-friendly practice.
Organic — Certified by the USDA to meet certain standards, including minimizing pesticides, no genetic engineering, no routine use of antibiotics or growth hormones in livestock.  The term is regulated, but many huge factory farms have started to produce organic goods too, so best to look for organic + local, or organic + sustainable, or organic + humanely raised.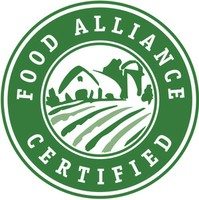 Sustainable — Sustainable food programs address many social and environmental issues that go beyond organic, including reduced pesticide use, humane care for livestock, reduced use of water, emphasis on renewable energy, safe and fair conditions for workers, and gentle treatment of the land.  Visit the Food Alliance or Scientific Certification Systems for more info.
Fair Trade — This label represents a partnership between consumers and producers that offers more rights and better wages for marginalized producers and workers, especially in developing countries.  A product that is "Fair Trade Certified," has been audited and verified by independent certification companies.  See the Fair Trade Labeling Organizations International for more info.
Biodynamic — Biodynamic agriculture is a method of organic farming that respects and protects the relationship between the soil, plants, animals, and farmers.  Its considered one of the most sustainable ways to grow food, so when you see this on a food or wine label, you can feel good about buying the product.