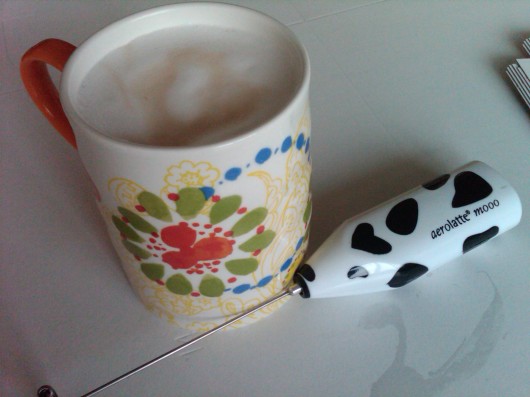 Question: What do YOU eat on a normal day?  I like to see all your ideas for what I should eat, but I want to know what you're eating to stay healthy!
Answer: Obviously what I eat varies a lot, but here's yesterday. Disclaimer: this is not a diet I'm recommending, it's just the way I eat, for better or worse.
On a nutritional scale of 1-10, with 1 being the worst diet ever and 10 being the healthiest, I'd give this day a 7.  Plenty of fruits & veggies, but I ate more often than I probably should have, and really didn't need the 9pm dessert, which was pretty large.
THURSDAY
7:30: Coffee with splash of half+half and lots of aerolatte milk (skim milk I frothed–see above)
8:30: 1 large piece rustic cracked wheat bread with TJ's almond flax butter & homemade apricot jelly
8:45: 1/2 a banana
11:30: decaf 2% latte, small Pink Lady apple
1:30: Chocolate Raspberry Luna Bar
3:30: sample of canned vegetarian chili and sample of lemonade, shopping at TJ's
4:30: 2 carrots cut into sticks with roasted garlic hummus, while cooking
4:45: sauteed zucchini, onion, roasted garlic, white beans, with chicken sausage slices + fried sage leaves on top
5:00: bowl of sliced strawberries & fresh pineapple chunks…and 3 Twizzlers (almost forgot these!)
9:oo: small vanilla frozen yogurt from Golden Spoon, with a dollop of peanut butter and rainbow sprinkles