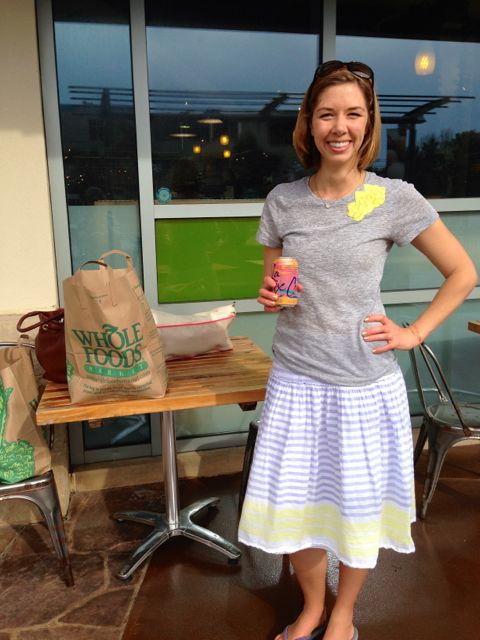 Since having Lucy, I've become even more devoted to buying organic and knowing where my food comes from. Thus I shop almost exclusively at Whole Foods and my local farmer's markets, where it's pretty easy to make healthy and eco-friendly food choices.
But like many families, we don't have an unlimited food budget. And shopping at these places without a plan can add up quick. So I wanted to share a few of the strategies that allow me to shop at Whole Foods on a budget. It's definitely possible!
[Bonus: at the end of this post you can enter to win a $50 Whole Foods Market gift card!]
Top 9 Tips for Shopping at Whole Foods on a Budget
1. Shop the sales.
This is an obvious one, but it's amazing how many of us don't do it. If you walk into any grocery store with a set list of items and brands that you must have, it's very hard to limit what you spend. Look for signs and integrate what's on sale into your meals and snacks for the week, which will save you a tremendous amount of money. Whole Foods prices may be high, but the store consistently offer deep discounts that make food more affordable.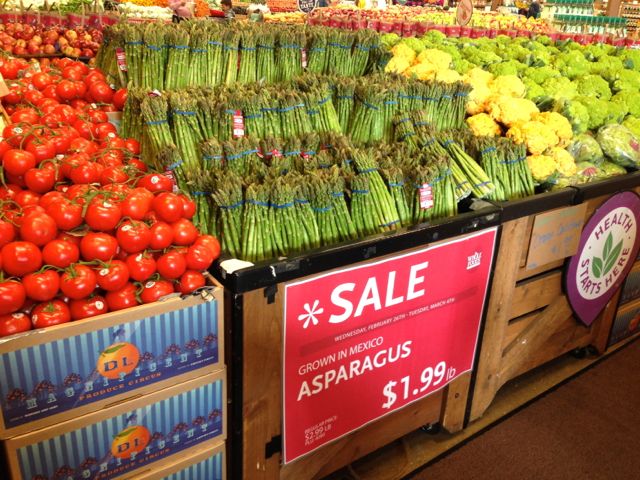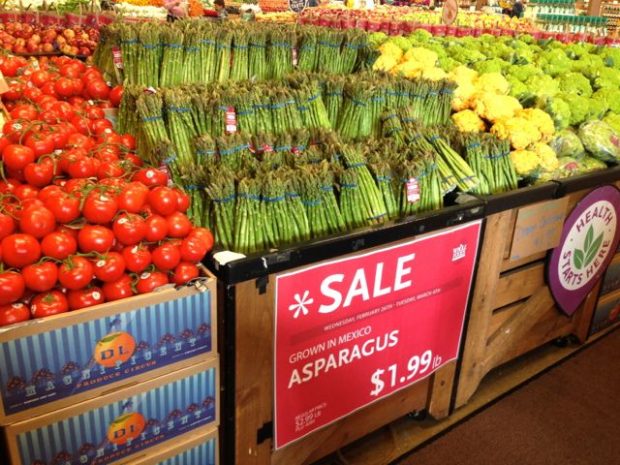 2. Buy what's in season.
Produce that's in season is likely to be on sale (and it tastes better, too!). So look for fruits & veggies at their peak, and once again keep an eye out for those sale signs.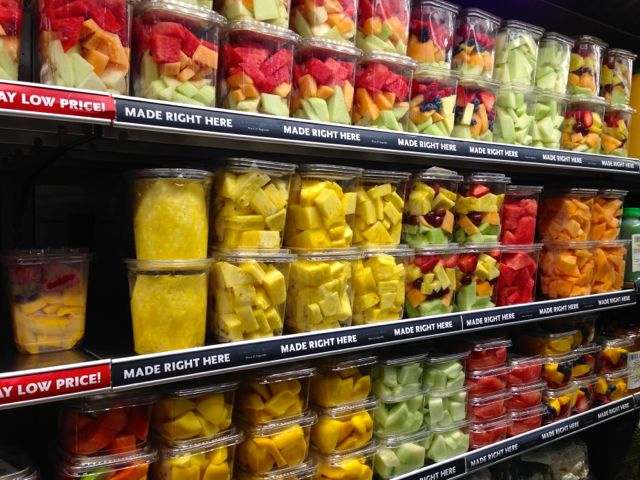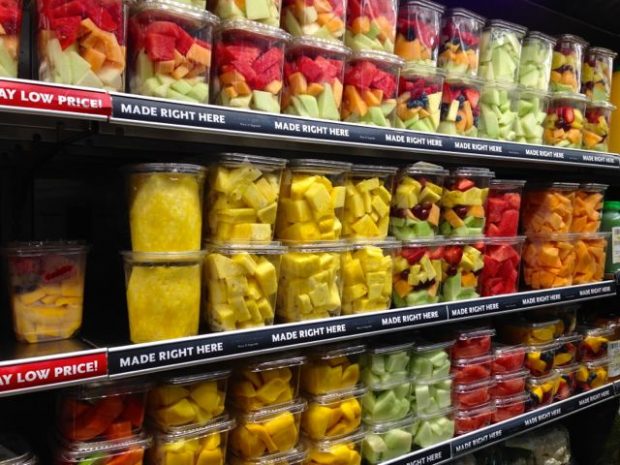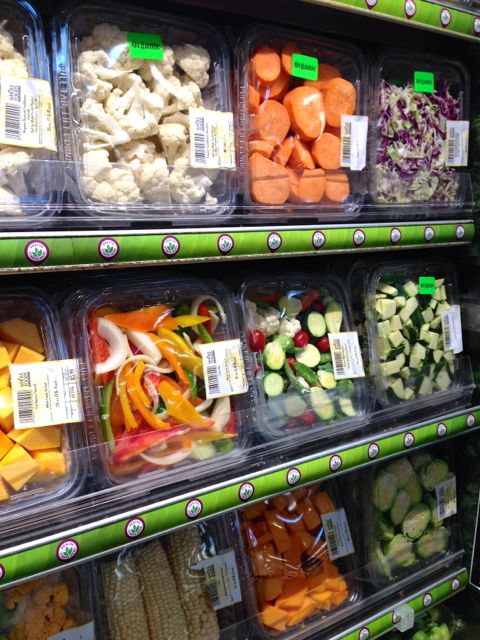 3. Skip the pre-cut, prepared produce.
Sure these containers can make life easier, but since someone else did the work for you, they come at a price. I always buy the whole fruits and vegetables myself, then spend an hour washing and prepping everything when I get home.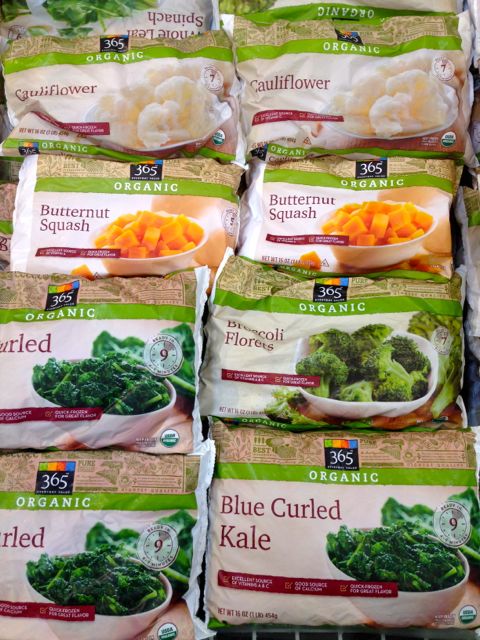 4. Buy frozen fruits & veggies.
Here's a place where you can take advantage of some pre-washed and pre-cut produce: in the frozen aisle. Whole Foods has a wide variety of frozen fruits and vegetables – many of which are organic – for very reasonable prices. These are great to keep on-hand for pasta, baked entrees, omelets, stir-fry and last minute meals of all kinds.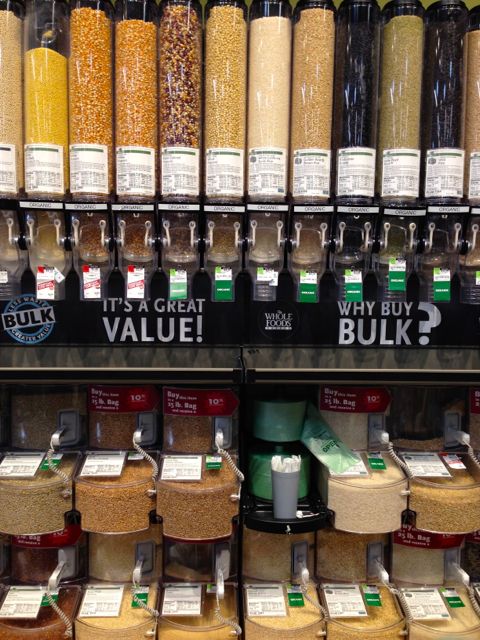 5. Remember the bulk section.
The bulk bins are where I buy most of our hot cereal, grains, beans, nuts and dried fruit. Bulk prices are often much cheaper than name-brand goods in the packaged food aisles. Plus, you can buy just the amount you need – instead of a whole container – which again keeps food costs down and reduces waste.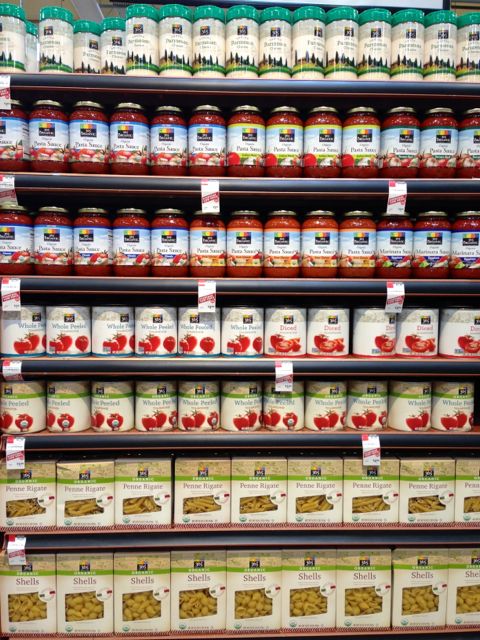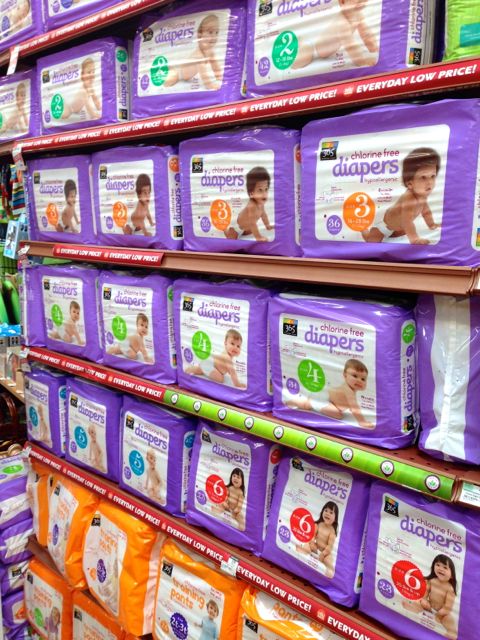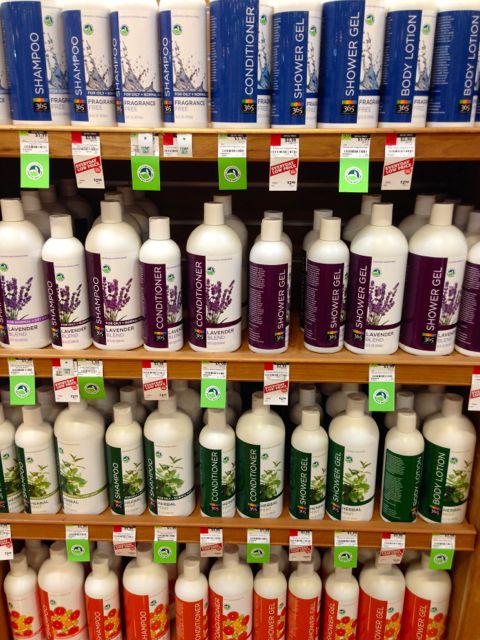 6. Take advantage of the store brand.
Whole Foods' private label – 365 Everyday Value – offers hundreds (or maybe thousands) of products throughout the store at the lowest prices. From pasta to shampoo to diapers, you can find 365 items that are comparable in quality to your favorite brands, but for less. Nearly every food product has an organic option, too.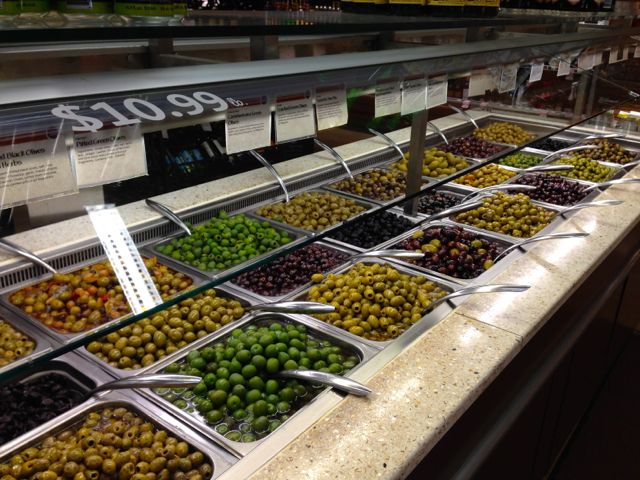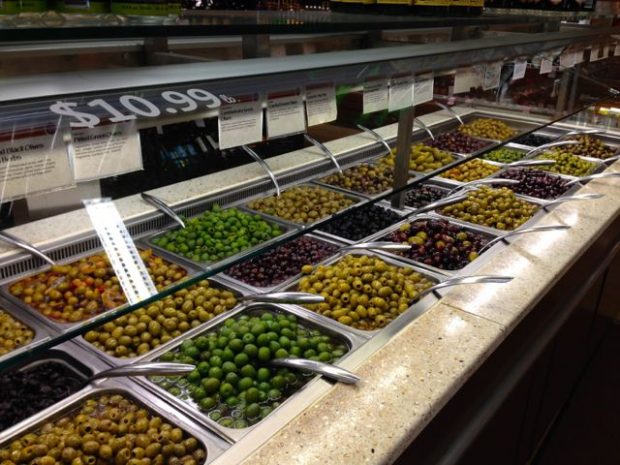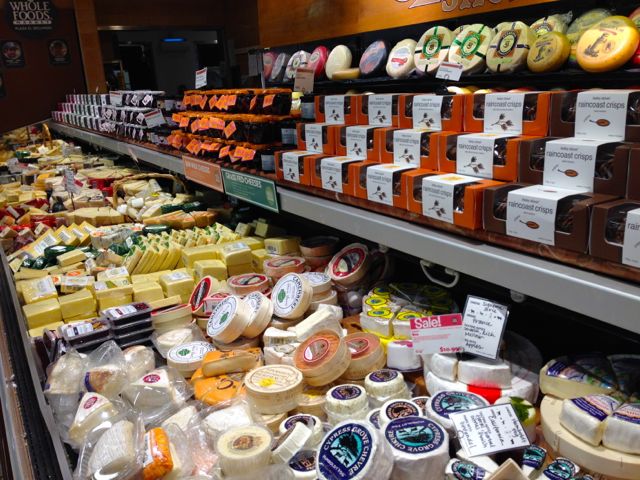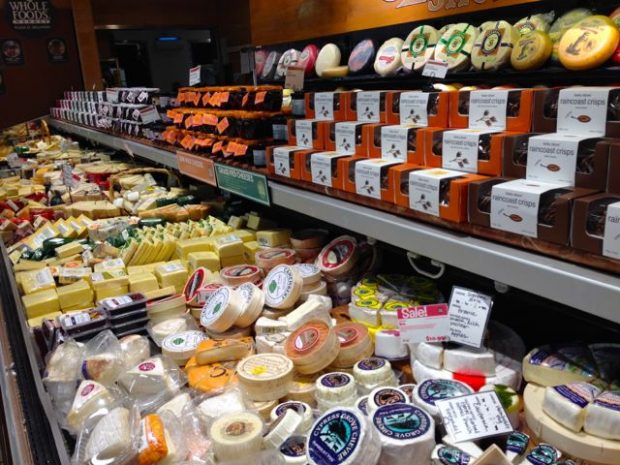 7. Save specialty items for special occasions.
Part of Whole Foods' appeal is the amazing gourmet items it offers, but these items are more of a splurge than my family can afford on a regular basis. I usually let myself buy one fun/gourmet/specialty item per shopping trip, and beyond that, I save these yummy treats for special occasions or times when I'm entertaining.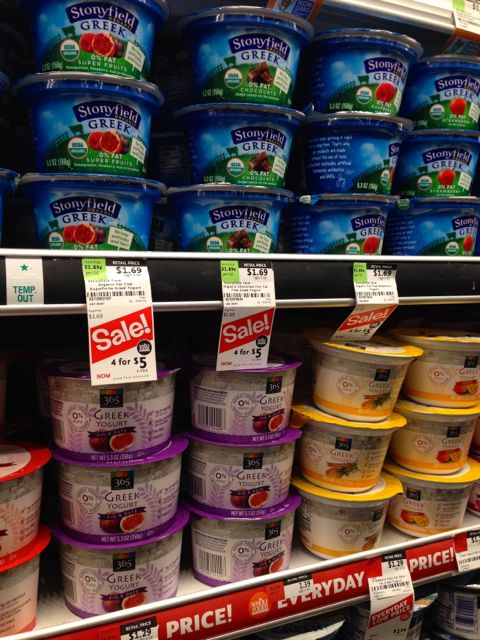 8. Buy more when your favorite items are on sale.
With items that save well (like yogurt!), I stock up when my favorite brands are on sale. As you can see in the picture above, the sale on this Stonyfield organic Greek yogurt makes it even cheaper than the non-organic store-brand option. On a day like this I'd buy at least twice what I need in order to avoid buying yogurt at regular price on a future shopping trip. This tip can be applied to nearly every section of the store (even meat & fish – just freeze it!).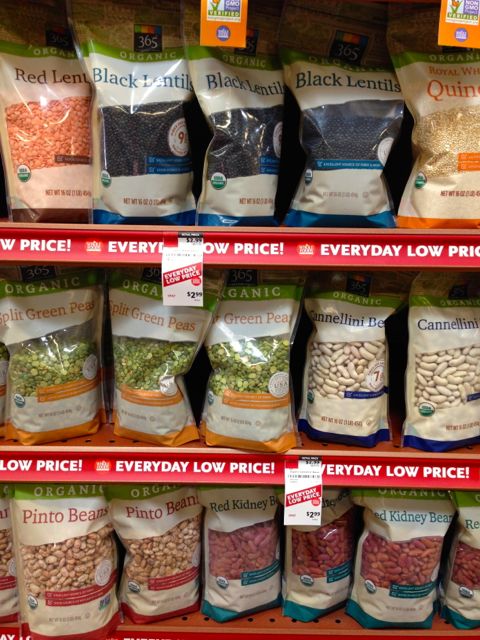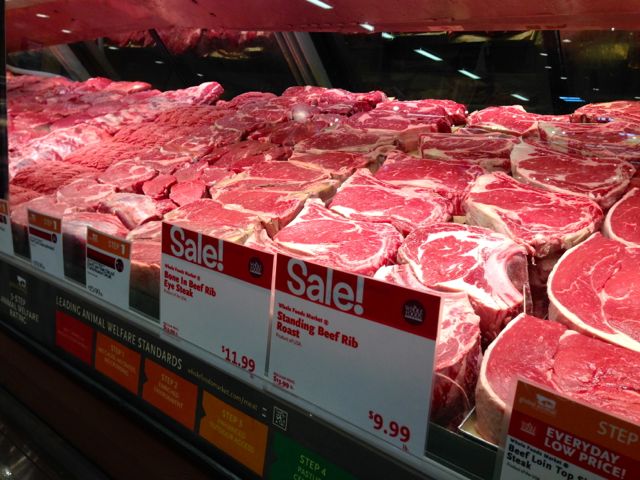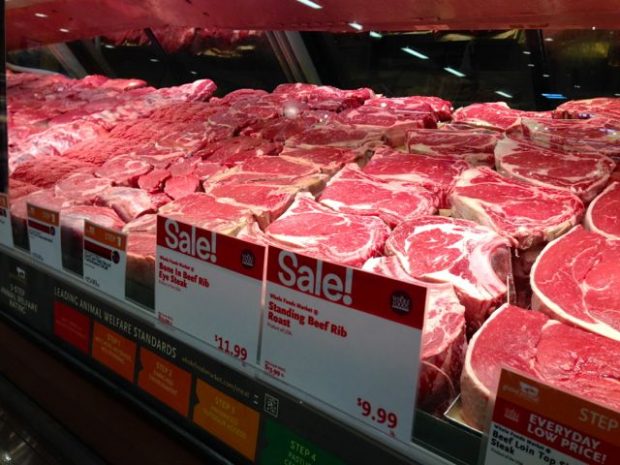 9. Focus on plants.
Even when you buy what's on sale, buying meat, fish and poultry will be more expensive than plant-based proteins like beans, tofu and nuts. So I try to plan most of our meals around these vegetarian items, and then add meat in as an "accent" flavor (like 2-3 slices of bacon in a soup), or feature it in just 1-2 dinners per week. This cuts costs by a ton, and is just as delicious & satisfying – even for the heartiest eater in our household.
We do spend about $150 per week on food, which could be considered high for a family of three. But since we rarely eat out, pack our lunches everyday and eat like kings 🙂 I feel good about this amount. And the peace of mind that comes from knowing what we're eating is safe and sustainable as well as delicious, is priceless.
GIVEAWAY ENDED
Here's How to Enter
Leave a comment below with a helpful tip for saving money at the grocery store and you'll be entered to win a $50 gift card to Whole Foods Market.
Winner will be randomly chosen on Friday evening, March 7th, 2014. Good luck!
Gift card provided by Whole Foods Market, but this is not a sponsored post.