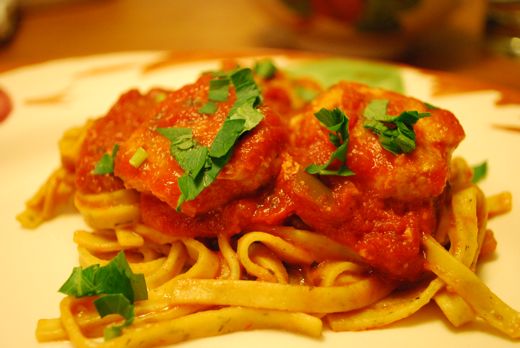 If you're not Italian and don't have a longstanding family meatball recipe, I recommend adopting this one, pronto.  Just add these cheesy, flavorful meatballs to your favorite marinara sauce and you've got the perfect appetizer or entree.  We served them in a chunky tomato sauce over garlic-basil linguine for Christmas dinner; it was quite a hit.
World's Best Turkey Meatballs
Ingredients
1 ½ cups Rustic Italian Bread, in chunks, crusts cut off
1 cup 1% Milk
¼ cup Fresh Italian Parsley, chopped
1 ¼ lbs Lean Ground Turkey
1 Large Eggs
1 teaspoon Kosher salt
½ teaspoon Ground black pepper
½ cup Pecorino Cheese, grated
1 teaspoon Fennel Seed
2 tablespoons Extra Virgin Olive Oil
4 ounces Tomato Paste
Instructions
Preheat oven to 400 degrees. Line a baking sheet with foil and coat with nonstick cooking spray. Place bread chunks in a medium bowl and pour milk over the bread. Press down so bread starts to absorb the liquid then let soak for about 15 minutes until milk is mostly all absorbed.
Mix all ingredients (including the milk-soaked bread) except turkey in the bottom of a large bowl. Then add the turkey and 1 Tbsp ice water and combine all ingredients with your hands until just combined. Form into small meatballs and place on the baking sheet.
Mix the tomato paste and olive oil together in a small bowl. Using a brush, generously paint the top of each meatball with the tomato paste mixture. Bake meatballs for about 15-20 minutes or until cooked through.
Add meatballs to your favorite sauce and serve as an appetizer (on a large platter with a toothpick in each one) or over noodles.