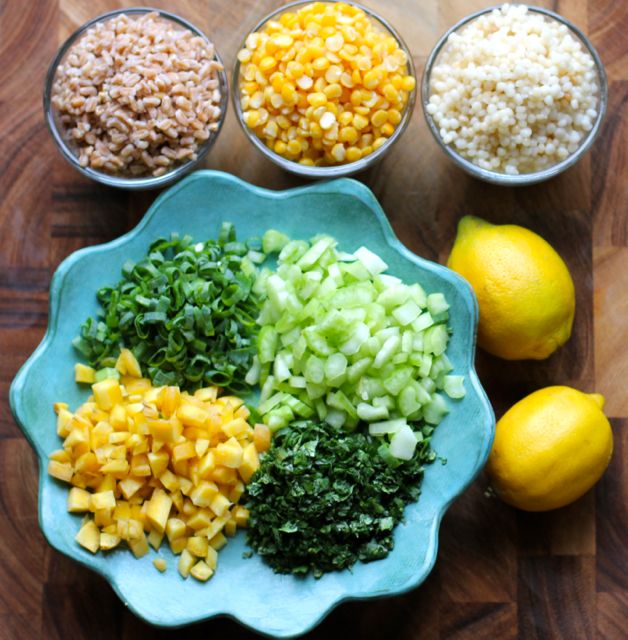 The following recipe & post comes from my friend Kari Lauritzen, a freelance writer, chef, and blogger at The Yellow Bungalow LA. 
I came up with this idea for a salad when I was on-the-go and needed something healthy, substantial and portable. Combining grains and lentils add protein and heft, and the veggies add a fresh crunch. Don't be shy with the fresh lemon juice or salt; the grains need to be seasoned well, otherwise the salad will be bland. Feel free to experiment with different grain and bean options. I have yet to meet a combination that I don't like!
This yellow lentil salad improves with time, so it's a great make-ahead option. If you don't have one of these ingredients, feel free to substitute with what you have on hand. Fresh parsley is a great stand-in for the cilantro, and if you have leftover brown rice in your fridge, for instance, use that instead of going through the trouble of making farro. You can also serve this salad over greens for a heftier meal, as well as add chunks of chicken if you like. This salad travels very well. I like to store it in mason jars and take it with me when I need healthy "fast food." Enjoy!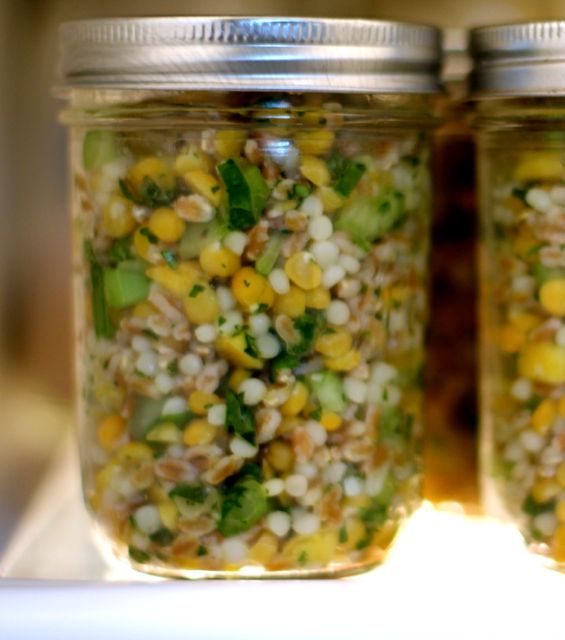 Yellow Lentil Power Salad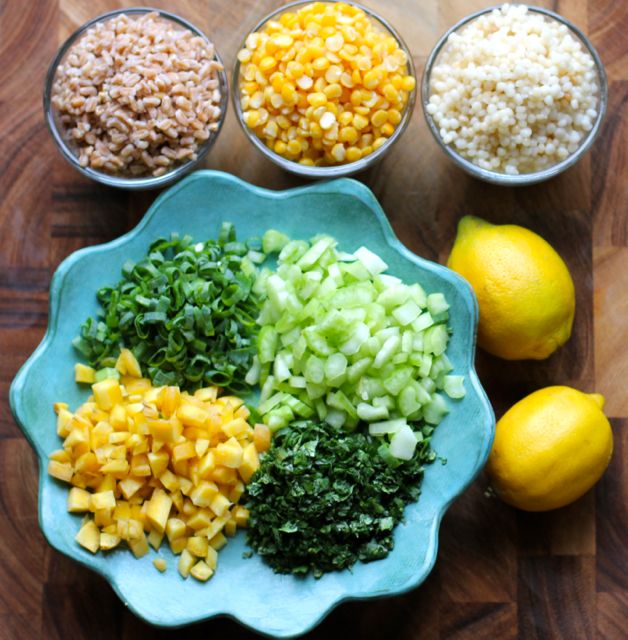 Ingredients
½ cup yellow lentils
½ cup farro
½ cup Israeli couscous
2 celery ribs
2 carrots
4 scallions, green parts only
½ cup cilantro leaves (pull the stems out and keep for other dishes)
fresh lemon juice (about 2 lemons)
extra-virgin olive oil to taste
salt + freshly ground pepper to taste
Instructions
Cook each of the grains/lentils separately and according to package directions, minus a couple of minutes (so the grains and lentils that are still "al dente," when you bite into them. Mushy grains will result in a mushy salad).
While the grains are cooking, chop the celery and carrot into small dice.
Chop the scallions and the cilantro leaves a little smaller so that they distribute evenly through the salad.
Allow the grains to cool before combining the ingredients to make the salad.
When ready to assemble the salad, combine the grains and veggies in a large bowl, then toss generously with fresh lemon juice. Drizzle with extra-virgin olive oil until wet and shiny (a couple of tablespoons should be enough), and then sprinkle with salt and pepper.
Stir well to combine, then taste and see if it needs more salt or lemon, etc. Itâ??s a good idea to go with more lemon (and salt if needed) because the grains will absorb the flavors.
Notes

In my experience, the lentils cooked in ten minutes, the the farro cooked for 20 minutes, and the couscous was ready in just four minutes.
Thank you, Kari!