Feeding kids doesn't have to be stressful. Here are six strategies to make mealtime easier and more enjoyable.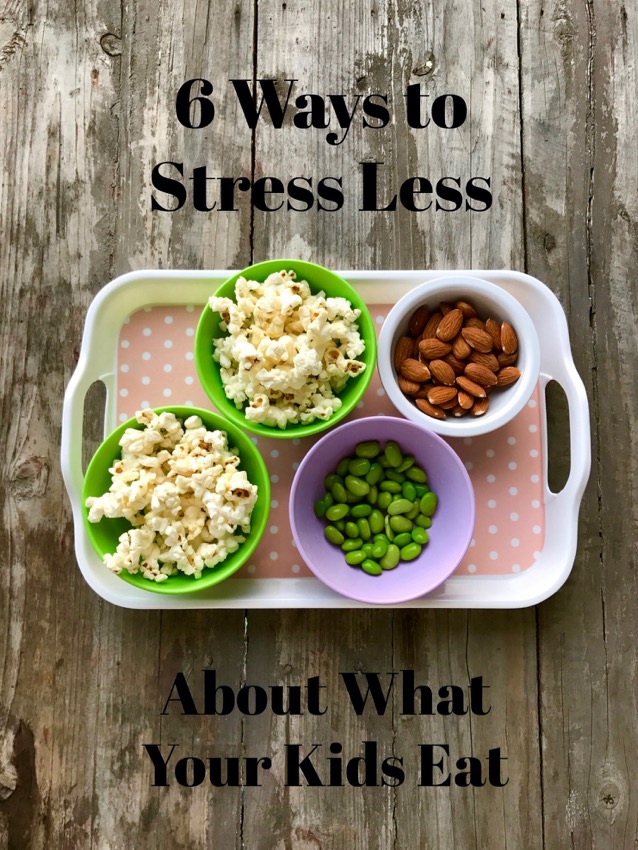 It's easy to get overwhelmed by food, especially when you're a parent trying to provide the best nourishment for your kids. Parents frequently reach out to me wondering whether their kids are eating enough, too much, sufficient vegetables, adequate protein, too many snacks, etc.
What do I tell them? First, to take a deep breath.
Then I share my own strategies for relaxing about food, in a way that still promotes healthy eating. These have worked well for me, and as far as I can tell, are working fairly well for my kids. I certainly don't have everything figured out, but if you're constantly thinking about what's the best diet for your kids, I think these strategies may help.
6 Ways to Worry Less About What Your Kids Eat
1. Think bigger picture. In my opinion, a parent's nutritional job is to 1) provide a healthy food environment and 2) give kids the foundation for a healthy relationship with food. These are far more important than what your kids are eating at a particular time, place or age. Picture your son or daughter as a 25-year old and approach mealtime the way you would with them then.
2. Forget about balanced meals. Kids may not eat a perfect balance of nutrients in a given meal, or even on a given day. But if you're offering a wide variety of foods in general, they'll probably achieve some balance over the course of a week, or even a month. Try shifting your focus from their intake during one meal, to their overall habits over a longer period of time.
3. Buy food you feel comfortable serving. I used to buy both plain and flavored yogurt – plain for regular use and flavored for special snacks. But I soon noticed that my kids always wanted the flavored yogurt if they knew it was there, and I usually caved to their begging – but felt bad about it. So one day I just stopped buying the flavored. For a day or two my kids asked for it, then they forgot about it. Now they happily eat plain anytime they feel like yogurt. They key to ending this conflict was for me to buy only what I felt comfortable with them eating.
4. Make food more fun. I love efficiency. And I don't love huge messes in my kitchen. But involving my kids in the occasional cooking project – even if it means our meal takes 5 times as long to make, and generates 10 times the mess – makes healthy eating more fun for all of us. I love this post from home cook and mom-of-4 The Baker Mama, about how she involves her kids in the kitchen while still getting food on the table.
5. Give kids more control. No one likes to coerce a kid to eat her green beans by bribing her with a treat. But in desperation, we all do it. Relieve stress on both you and your children by serving healthy snacks and meals (that include at least a couple foods you know they like) and letting them choose what and how much to eat.
6. Serve meals family style. Allowing kids to serve themselves encourages them to try new foods, teaches them to listen to their hunger signals, and gives them a sense of control over their choices. And when each family member has a say in what goes on their plate and in their mouths, anxiety for both kids and parents will go down. This post from Sally of Real Mom Nutrition has more great reasons to serve family style meals.
If there's anything else that works for your family, I'd love to hear about it!