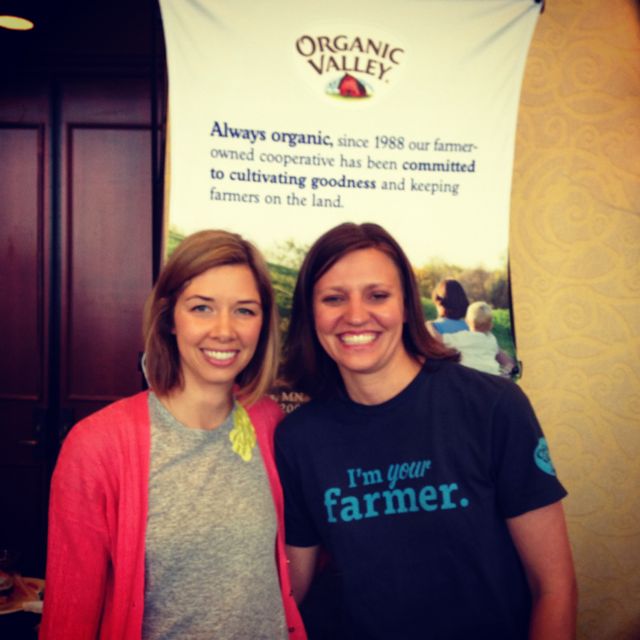 The more I learn about farming, the more passionate I become about buying organic. In our current food system, buying organic is the only way to ensure your food does not contain GMOs, toxic & persistent pesticides, synthetic growth hormones or antibiotic-resistant bacteria. [Unless, of course, you are a farmer or truly know the farmer who grows or produces your food.]
Last weekend I had the opportunity to hear Emily Zweber, a dairy farmer and mom of three, talk about why organic food is important to her. Here were three of the reasons she gave for why her family chooses to farm organically:
She feels like her kids are safer. Since the land, animal feed, and milk produced all meet organic standards, Emily doesn't have to worry about her kids being exposed to toxic chemicals while they are running around her yard, drinking milk straight from the bucket, or out playing amongst the cows.
She can make a better living. Emily is part of the Organic Valley Cooperative, which means that she and the other dairy farmers have a say in how their business is run. They also know what they're going to earn for what they produce for the coming year, unlike conventional dairy farmers who have fixed expenses but unpredictable incomes because the price of their milk depends on the stock market and commodities trading.
She believes in the humane treatment of cows. Emily's cows graze on pasture whenever the weather permits, which means they are able to engage in natural cow behaviors and remain healthier than they would on a conventional farm.
What does an organic dairy farm really look like? See here for yourself:
Learn more about Zweber Family Farms here, or follow Emily's blog to learn about everything from organic lawn care to why dairy farms smell.
*Note: I am fully aware that not everyone can afford to buy organic dairy. In fact, many Americans struggle to afford any healthy food at all. When I write posts like this, my objective is to raise awareness about modern farming and the alternatives to conventional factory-produced food that currently exist. If you can afford organic food, buying it will help reduce prices so that down the road, organic food and products will be more accessible to everyone.