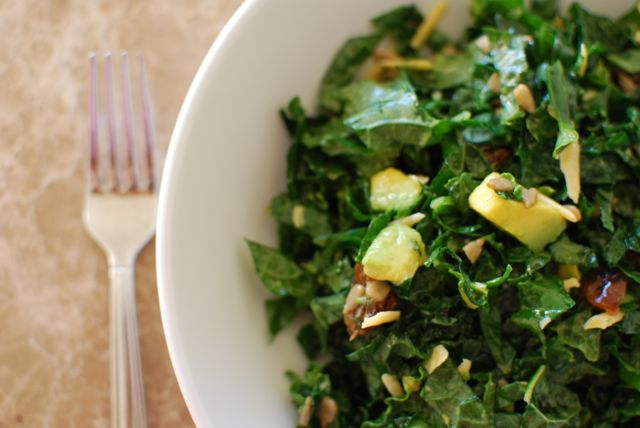 I don't know about you, but I'm seriously craving vegetables right now. Salad in particular. Bring on the raw, crunchy, non-holiday food!
I was flipping through the Salad section of my blog and found an old post that inspired me to make a kale salad with avocado and dates for lunch. It was fabulous – and I can't wait to make these other recipes in the coming few days.
Enjoy!
Kale, Strawberry and Avocado Salad with Lemon Poppyseed Dressing
If you don't have poppy seeds, just leave them out. This salad is also great with goat cheese in place of feta.
Kale Salad with Walnuts and Soft Boiled Eggs
Out of laziness I omit the anchovies and garlic, and just add some sliced green onions instead. This provides a little potent flavor without requiring a food processor to make the dressing.
Add some cooked brown rice or other grain to turn this salad into a main meal.
The keys to a good kale salad
Remove the stems and ribs from the kale leaves – these are a little too tough to eat raw
Use a decent amount of acid (citrus or vinegar) + salt in the dressing
Let kale "marinate" for at least 10 minutes in the dressing, tossing occasionally, to help soften it
Black kale – the non-curly kind, also called Dinosaur kale – makes especially delicious salads