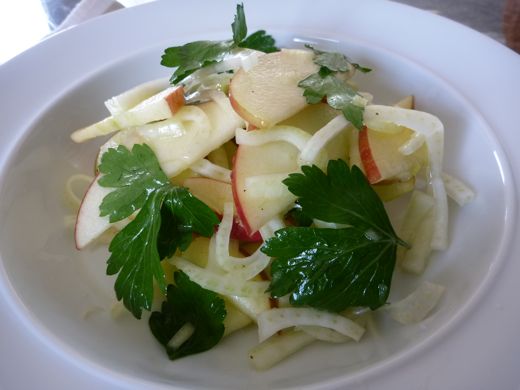 Here's a great way to turn the season's best apples into a light, refreshing, savory dish.  Any kind of apple will do, so hunt down whatever variety is freshest in your area and quickly turn them into this perfectly crunchy salad. Serve as a side dish, perhaps with Squash Mac n Cheese or Homemade Hamburger Helper.
Apple, Fennel, and Parsley Salad
Ingredients
Juice of 1 lemon
1 Tbsp extra virgin olive oil
Salt & pepper to taste
2 Tbsp honey
3 large apples, cored and thinly sliced
1 fennel bulb, cored and very thinly sliced
Handful of fresh parsley leaves
Instructions
Whisk first 4 ingredients in the bottom of a large bowl until combined. Add the apple, fennel, and parsley, and toss gently until everything is evenly coated.