Packed with superfoods, fiber and protein, this Power Bowl is a perfect breakfast or lunch that tastes amazing and will make you feel your best!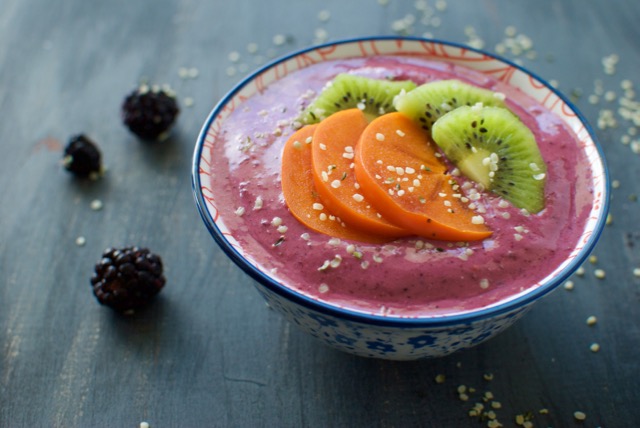 I grew up in Seattle, where you can find blackberry bushes growing literally everywhere, from parks to street corners. Come mid-July these prickly weeds begin to bear the sweetest, juiciest, most delicious berries imaginable.
Multiple times every summer, my family would head to our favorite "secret" picking spots and load up on berries. Admittedly, my brother and I often came home with juice-stained lips and virtually empty buckets. But my mom more than made up for our nibbling, and was able to freeze bags upon bags of berries for us to enjoy all winter long.
Now that I live in California, where blackberries are usually imported and never as good as I'm expecting, I exclusively buy them already frozen. It's not quite the same as plucking a plump berry off a bush, but it does allow me to relive all the delicious blackberry-inspired sauces and baked goods my mom used to make.
Most recently, I've been on a blackberry smoothie kick and honestly can't get enough. When I go to bed at night I'm already dreaming of the smoothie I'll make for breakfast the next day – they're that good!
Of course I still need to change up my routine once in awhile, so the other day I made this Blackberry Power Bowl, which is like an extra thick, creamy, spoonable smoothie just begging to be topped with colorful and crunchy toppings. It's packed with so many feel-good superfoods – hemp seeds, chia seeds, blackberries, Greek yogurt – that I felt like it earned the name "Power Bowl" instead of "Smoothie Bowl."
This bowl is really a complete meal. Perfect for breakfast, a light lunch, or a hearty afternoon snack. I can almost guarantee you'll feel good after eating this!
As with any smoothie or smoothie bowl, you can easily substitute the fruit and/or toppings for whatever you have on-hand. But I highly recommend using the blackberries here: their sweet-tart flavor and seedy texture are simply perfect in this bowl.
Enjoy!

Blackberry Hemp Seed Power Bowl
Packed with superfoods, fiber and protein, this Power Bowl is a perfect breakfast or lunch that tastes amazing and will make you feel your best!
Ingredients
¾ cup water
1 Tbsp hemp seeds
1 Tbsp chia seeds
1 Tbsp rolled oats
¾ cup plain Greek yogurt (I used whole milk Greek)
1 heaping cup Earthbound Farm frozen organic blackberries
½ cup Earthbound Farm frozen organic strawberries, blueberries or raspberries
2 pitted dates
½ tsp vanilla extract (optional, but I think it adds great flavor)
Instructions
Place water, chia seeds, hemp seeds and oats in a blender and let sit about 10 minutes, or until seeds have softened and absorbed some of the liquid.
Add remaining ingredients to the blender and blend until thick and smooth. Pour/scrape into a bowl and top with fresh sliced fruit, more hemp seeds, coconut flakes or granola.
Notes
I recommend placing a bowl or mason jar in the fridge before you start making this recipe, so it keeps the consistency of your smoothie bowl cold and thick for a little longer!
This post is sponsored by Earthbound Farm. As always, thoughts and opinions are 100% my own. I only work with brands whose products support better health for my readers and our planet. Thank you for reading and for helping to keep my blog running – I couldn't do it without your support!