I've never been into Astrology, but when Earthbound Farm asked me to take the Salad Sign Quiz they were offering as part of their 30th birthday celebration, I was willing to reconsider. Salad Astrology? Now that's up my alley.
(P.s. Take the quiz and be entered to win one of 30 "mystery" prizes they're giving away each week this month. Yippee!)
What I discovered through the quiz is that my "salad sign" is The Nurturer. Not exactly surprising 😉
Since I can remember, I've been working hard to nurture those around me, especially through food. My parents say I was making extensive (pretend) dinners for them and all my dolls before I could even speak in sentences.
Now that I'm a mom, and my time is spread among two young kids and all that goes into running a household and a blog, it's more challenging to nurture myself and my family with homemade food. There's just not much time!
But thanks to these strategies and holding myself to new, more flexible standards, I'm still giving it my best effort, since mealtime is so important to the heart and soul of our family.
Today I'm sharing one of the quick meals that's become a staple in our busy household: Butternut Squash Quesadillas.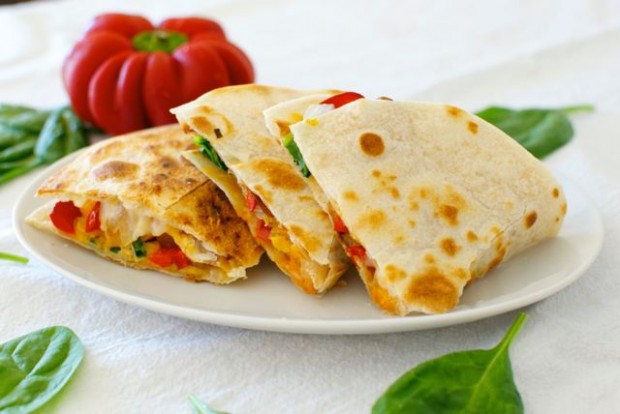 Thanks to frozen butternut squash, shredded cheese and pre-washed baby spinach, this meal comes together fast, so it's great for busy weeknights.
I usually chop and sauté the veggies during a nap earlier in the day, so that come dinnertime we can just assemble and heat.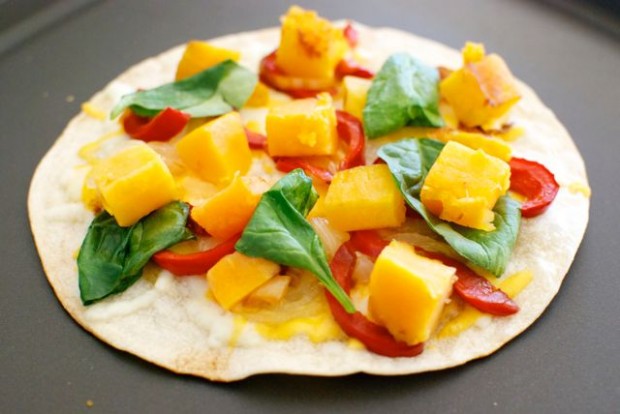 These are tasty on their own, but even better when dipped into dollops of salsa, Greek yogurt and refried beans.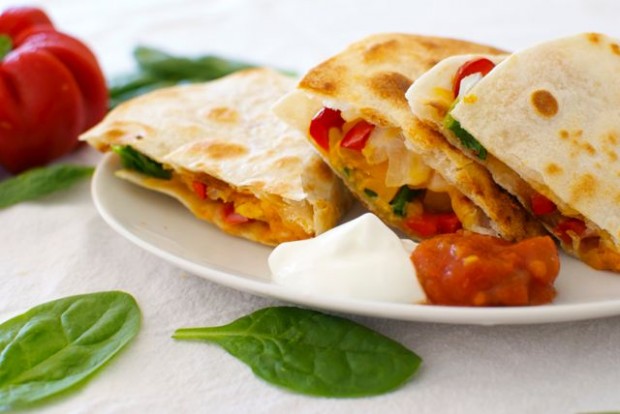 Whoever you serve these to will definitely feel loved and nurtured 🙂
Butternut Squash Quesadillas
A fast, easy, hearty meal that's wholesome and packed with veggies!
Ingredients
2 tsp oil
1 medium onion, thinly sliced
1 large red bell pepper (or two small), thinly sliced
½ tsp cumin
½ tsp oregano
1 package Earthbound Farm frozen butternut squash
1-2 cups Earthbound farm baby spinach
6 flour tortillas (I like the uncooked ones in the refrigerated section best)
8 oz organic shredded cheese (Mexican blend, Monterey Jack or Cheddar)
Instructions
Heat oil over medium heat in a medium-sized skillet.
Add onion and sauté 3-5 minutes or until soft.
Sprinkle with salt and add sliced bell pepper. Saute another 3-5 minutes.
Stir in cumin and oregano and remove from heat.
Heat butternut squash according to package directions (I microwave it), then drain well.
Heat a griddle or another skillet over medium heat.
Place a tortilla on the griddle and sprinkle with cheese (if using uncooked tortillas, cook for 30 seconds each side before sprinkling with cheese).
Top the cheese with some of the onion & pepper mixture, some squash cubes and a small handful of spinach leaves.
Fold tortilla in half and cook until cheese is completely melted and veggies are hot.
Cut into wedges and serve with salsa, sour cream, avocado and/or warm refried beans.
Nutrition Information
Serving size:
1-2 quesadillas
 This post is sponsored by Earthbound Farm. Head over here to find your own salad sign!