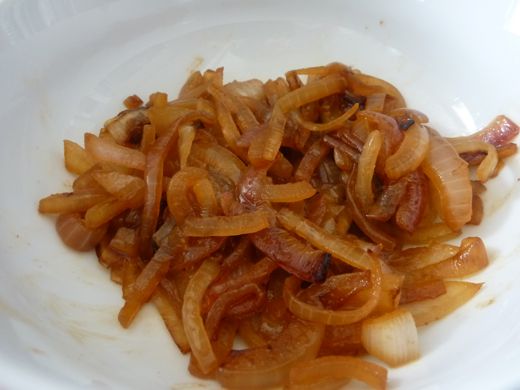 Caramelized onions sound so fancy. But they're extremely easy to make, and can quickly turn a boring dish into an exquisite one.  All "caramelizing onions" means is sauteing onions slowly, so that they soften, wilt, brown, and eventually become sweet-tasting instead of potent.  Here's how I do it:
Here are just a few of the ways you can use these onions:
Add to spaghetti along with toasted walnuts, sauteed greens, and Parmesan cheese
Add to any pasta sauce
Spread onto crostini with goat cheese and fresh herbs as an appetizers
Make a creamy caramelized onion dip for veggies or crackers
Add to any sandwich (try grilled cheese) or panini
Serve in a little bowl on a cheese or Charcuterie (cured meat) platter
Use as the base for a rich sauce or soup
Easy Caramelized Onions
Ingredients
Caramelized Onions
2 large onions, any color
2 Tbsp extra virgin olive oil
Generous sprinkling of salt
A little ground pepper
¼ cup white wine OR 2 Tbsp balsamic vinegar
Instructions
Heat large saute pan over medium heat. Slice onions into thin slices.
Add oil to the pan, then add onions and a sprinkle of salt.
Saute, occasionally stirring with a wooden spoon, until onions begin to brown on the bottom and soften (if onions look like they're starting to burn, quickly reduce heat to low).
After 8-10 minutes, add a little more salt, some pepper, and the wine if using. Reduce heat to low or medium-low and cook an additional ~10 minutes or until onions are extremely soft and browned, and liquid has been absorbed. If using vinegar instead of wine, add the vinegar at the end, so it only cooks for 2-3 min.