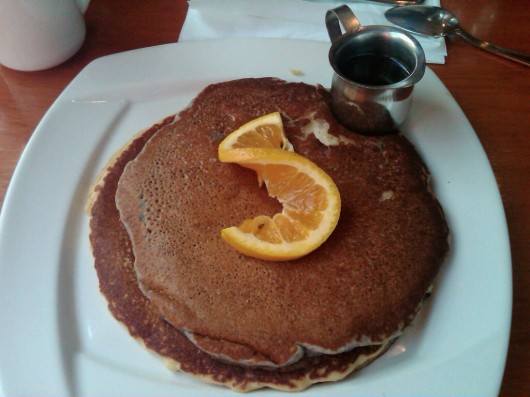 I had these fantastic blue and yellow corn pancakes at A Voutre Sante yesterday with my friend Willow.  Luckily, they're super easy to make at home on a lazy weekend morning, so you don't have to live in LA to sink your teeth into these babies.  Here's the recipe I often make at home.
Crispy Corn Pancakes
Ingredients
1 ½ cups Whole Wheat Pastry Flour
2 teaspoons Baking Powder
1 tablespoon Sugar
1 teaspoon Kosher salt
1 cup Cornmeal, fine or medium ground
2 tablespoons Canola Oil
½ cup Frozen Corn Kernels, thawed
2 Large Eggs
1 cup Lowfat Buttermilk
2 tablespoons Unsalted Butter
Instructions
Mix together dry ingredients in a medium bowl and set aside.
Whisk together buttermilk, eggs, and oil. Pour dry ingredients and corn kernels into the wet and whisk together until smooth, adding room temperature water (1/4-1/2 cup) until desired consistency is reached. Batter should be runnier than regular pancake batter, but thick enough to hold together when it hits the griddle.
Heat a griddle over medium heat for a few minutes. Lightly butter the griddle, then pour large spoonfuls of batter on griddle to form pancakes. Cook until bubbles appear in the batter, about 3 min, then flip and cook an additional minute. Keep warm in a low oven (175 degrees) until ready to serve the whole batch.
Serve pancakes with maple syrup, fruit compote, preserves, and/or sliced bananas or berries. OPTIONAL: Add bananas or blueberries to the batter before cooking pancakes along with ½ tsp cinnamon.