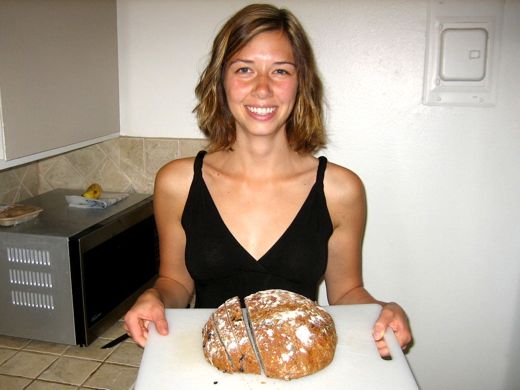 Between the gluten-free folks and the low-carb dieters, I sometimes feel like I'm one of the last few people in LA who still eats bread.  While my friends order bun-less burgers and tortilla-less tacos, I'm sinking my teeth into a warm buttered slice of sourdough, and not feeling guilty in the slightest.
Why? Because contrary to popular belief, bread does not make you fat.
In fact, there isn't any one food that makes you fat. Weight gain occurs when you eat more calories than you burn.  These extra un-burned calories could come from bread, but they could also come from anything else you eat.
So why does bread get such a bad reputation? 
For a few (good) reasons:
Refined white bread products – not just bread but bagels, cakes, cookies, muffins, biscuits, crackers, etc – are high in calories and low in nutrients.  So if you frequently choose refined options, you won't get much nutritional bang for your buck.
Many Americans eat bread as part of every meal, which is not good partly because of Reason #1 and partly because bread is being consumed instead of something more nutritious, like vegetables.
People who eat a lot of white refined carbohydrates tend to weigh more and have more belly fat, which increases the risk of heart disease, diabetes, and other lifestyle-related health conditions.  Great reason to choose whole grain on most occasions.
Carbohydrates – especially refined ones – can cause spikes and drops in blood sugar if they're not eaten along with protein and fat.  This leads to uneven metabolism and lack of energy – so best to make meals and snacks a combination of carbs, protein, and fat.
If you stick to whole grain breads (most of the time), bread can actually be a great source of nutrients.
100% whole grain bread offers:
Fiber, which helps keep you satisfied and helps keep cholesterol in check
Protein, which helps keep you feeling satisfied
Naturally-occurring vitamins
And you can certainly eat bread on a regular basis – in moderate portions of course – without gaining weight.
Here's how to make bread part of a healthy diet:
Choose 100% whole grain breads most of the time.  White refined carbohydrates are just empty calories that take up precious space in our diets, but whole grain choices offer satisfying, heart-healthy fiber and protein as well as other nutrients.
Keep track of your consumption.  If you have toast with peanut butter for breakfast, skip the lunchtime sandwich and dinnertime pizza and aim to have bread-less meals instead (like soup, salad, stir-fry, etc).  If you're going out for an Italian dinner later (read: bread dipped in garlic oil followed by pasta), make a smoothie for breakfast and have a big salad for lunch.  Thinking about what you've eaten/what you're going to eat helps you achieve moderation throughout the day.
Eat bread with protein and fat.  A piece of plain bread won't fill you up for long or give you sustained energy.  Try to eat grains with cheese, nut butter, avocado, a slice of turkey, an egg, etc.  so that you get more nutrients and feel more satisfied.
Decide between bread, alcohol, or dessert when eating out.  In an ideal world, I'd have bread and wine with dinner every night followed by dessert.  But to maintain a healthy weight you have to make choices, and there isn't room for everything.
Bread is a serving of starch, not a side dish to accompany other starch.  Keep this in mind when eating pizza and pasta (limit or skip the garlic bread), sandwiches (opt for a side green salad instead of pasta/potato/macaroni salad), burgers (choose a side salad instead of fries), etc.  Again, it's all about choosing what you most want to indulge in.
Some breads I like and recommend:
Food For Life Sprouted Grain Breads – Cinnamon Raisin and Sesame are my favorites
Rudi's Organic 7 Grain with Flax
Milton's 100% Whole Wheat
Trader Joe's Whole Wheat Tuscan Pane
Homemade whole grain bread of any kind!