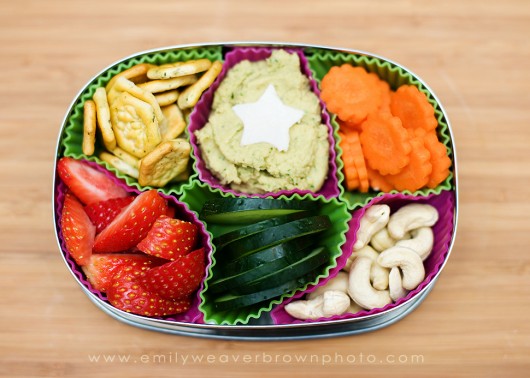 Buying lunch everyday can really add up, both in dollars and calories.  But bringing food from home often means boring, redundant meals that you just don't look forward to in the middle of the work day.  I asked my friend Christa – a nurse who works twelve hour shifts and thus has to bring multiple meals to work – to share some of her food staples as well as her tips for for staying interested and planning ahead.  Here they are.
1.  "Kitchen Sink" soup – Trader Joe's (or any boxed) roasted tomato and red pepper soup with lots of things thrown in.  I add rotisserie chicken bits, roasted chicken, or frozen chicken breast strips; quinoa – either that i prepared or a frozen mix at TJ's; plus any roasted vegetable that i have in my fridge – broccoli, cauliflower, Brussels sprouts.  Then frozen corn and black beans or chickpeas.
2.  Whole wheat quesadilla with cheese – melted in toaster oven.  Eat it either with soup or by itself.
3.  Roasted vegetables with chicken – great when you have leftovers – and you can eat this hot or cold or on top of a bed of greens as a salad.
4.  Sweet potatoes with more of the same above ingredients on top.  Any roasted vegetable; my favorite has been Brussels sprouts and roasted tomatoes.  Add a dollop of TJ's chive and yogurt dip (healthy and delish).  I also bring a sweet potato with sauteed greens (southern greens mix from TJs) and cooked sliced chicken sausage.  it's really good and very filling.  lots of fiber from the sweet potato and protein from the sausage.
5.  BIG salads with spinach or arugula.  again, i throw in all sorts of things.  Shredded raw beets and carrots, chicken, goat cheese, walnuts, dried cranberries, sometimes roasted vegetables, beans, plus quinoa.  And I always use a store-bought salad dressing – but of course, nothing too high cal (under 100 calories per serving).  TJ's has a really good creamy cilantro dressing.
6.  Sometimes, I am VERY basic.  I'll just eat raw vegetables (lots of them – carrots, snap peas, broccoli) with lots of hummus (edamamme humus from TJ's is my favorite) and tzaziki or chive yogurt dip.  This sounds boring, but it's surprisingly tasty and refreshing.  Then I eat a grapefruit, which is the perfect end to this "meal."  Nuts can add some protein and fat as an extra snack before or after lunch, which helps keep me full.
7.  I always keep string cheese or Babybel Light cheese with me.
8.  I always bring lots of snacks with me to work because I figure that if I get hungry, whatever i bring with me is a healthier option that what I would find in the break room at work.  I have 100-calorie packs of popcorn and almonds, mini kind bars (less than 120 calories), and dark chocolate Nature Valley bars (which are not that healthy but feel like a fantastic treat).  And sometimes I love a carton of chocolate milk — it fills me up and serves as a really nice treat.
I never take more than 5-10 minutes preparing my meals in the morning.  And sometimes, when I work for a stretch of days, i prepare several things at once.  I place servings of cereal in individual Tupperware containers, and can just grab one from the cupboard on my way out the door.  I buy large containers of yogurt (cheaper and less wasteful) and scoop it into individual Tupperware so it's also ready to go.  With nuts, crackers, and anything that's easy to go "overboard" on, I pack small servings in individual containers and keep them in my purse.
Grocery shopping once a week, having lots of small Tupperware on hand, and planning ahead really helps!  Once things are prepped, I can get out the door in a hurry without worrying about wasting extra time or money on food.
Thank you, Christa for sharing!
Thank you, Emily Weaver Brown Photography for the above photo.  Check out all her cute packed lunch ideas!