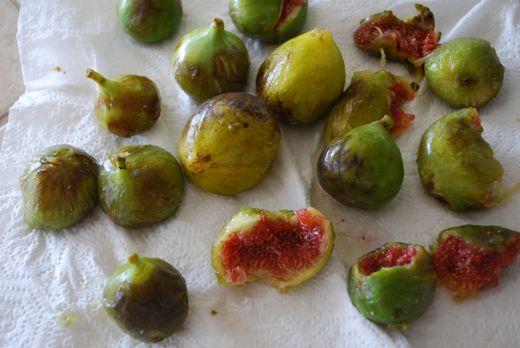 The other day I got the best gift from one of my favorite farmer's market vendors: a big bag of very ripe, soft fresh figs.  Heaven!  These were so much sweeter than all the more pretty-looking figs I've had all summer…and they were perfect for Lucy, as they were already squishy.  I washed and gave her a fresh one (with intact skin) to examine and taste…
She was a big fan. (Obviously. Fresh figs rule).
I loved how she periodically took the fig out of her mouth to poke and prod.  She had fun twirling her finger around in the seeds.
After she was done (and after I inhaled about 15 figs myself), we cooked the rest of the fruit with a little sugar, vanilla, and balsamic vinegar.  Now we have the most delectable sauce for yogurt, ice cream, or just eating by the spoonful.  Next time you're out to buy fresh figs (next season, I regret to say)…pick the ugly, mushy ones…they're the best!