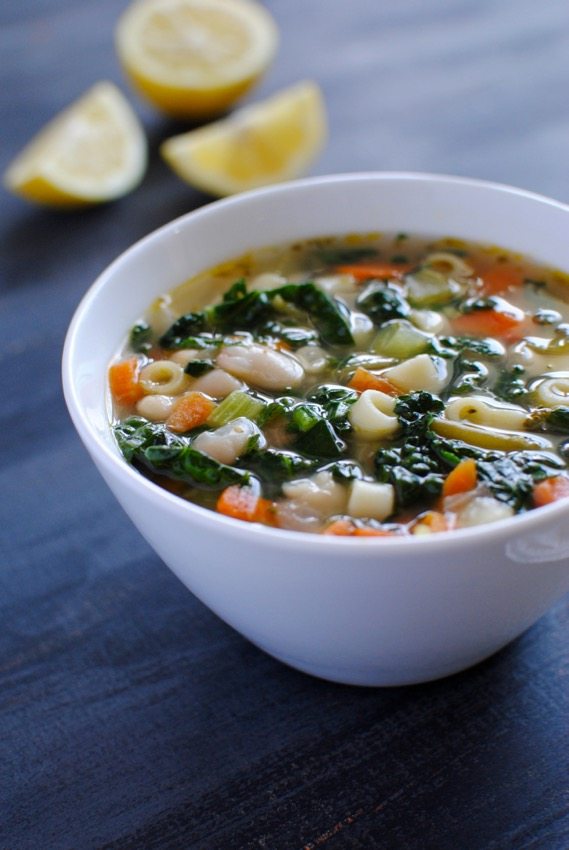 My kids have been sick a lot over the last few months, which means I'm usually fighting off some virus or another myself. Whenever I feel a little something coming on, I step up my immune-boosting food routine. This includes daily kombucha, kefir, Klio tea and of course, chicken noodle soup.
By now I think I've made nearly every chicken broth-based soup on Pinterest. But none makes me feel quite as warm and reenergized as this one.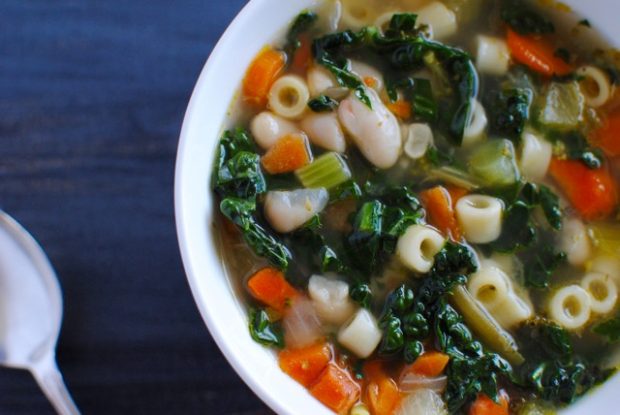 The citrusy tang, salty broth, earthy greens and Mediterranean flavors make this soup irresistible when you're feeling under the weather. I actually made this last night, but it's already gone, so I have another batch on the stove as I write this.
The best part about this soup? My kids will eat it. Which is saying a lot, as any parent knows.
Hope you're all staying healthy this winter. But even if you're not, this soup will help!

Healing Lemon Chicken Noodle Soup
A nourishing, refreshing, lemony chicken soup to get your family through cold and flu season. Even when you're feeling your best, this soup is delicious!
Ingredients
1 cup small pasta (like orzo, elbows, or mini bowties)
2 Tbsp butter or olive oil
1 Tbsp all-purpose flour
1 small onion, chopped
2 carrots, chopped
2 stalks celery (with leaves), chopped
3 cloves garlic, minced
1 tsp oregano
6 cups chicken broth
2 cups packed chopped kale leaves
1.5 cups chopped chicken or white beans - or both
Zest and juice of 1 large lemon
Crumbled feta cheese or fresh parsley for topping (optional)
Instructions
Cook pasta according to package directions. Drain, toss with 1 Tbsp oil and set aside.
In a large heavy pot, melt butter or oil over medium heat.
Add chopped onion, carrot and celery and sauté five minutes.
Stir in garlic, oregano and flour and cook another 1-2 minutes, stirring.
Add broth, kale and chicken/beans to the pot and cook over medium low heat for 20-30 minutes or until vegetables are soft.
Stir in lemon zest, juice and noodles. Serve right away or cook a little longer over low heat for more robust flavor.
Garnish with feta cheese and/or chopped fresh parsley (optional).
Notes
The noodles will soak up some of the broth. If you want the soup to have more broth, just add 1 cup water when you add the lemon juice. Or, add the noodles to the individual bowls before serving. In my family, we like the soft, broth-soaked noodles.

The flour in this recipe can be left out. It just thickens the soup a little, which my family likes. But the pasta does the same if you leave it in as the soup cooks.