This homemade version of the Unicorn Frappuccino is made from healthy real food ingredients and most importantly – it tastes delicious!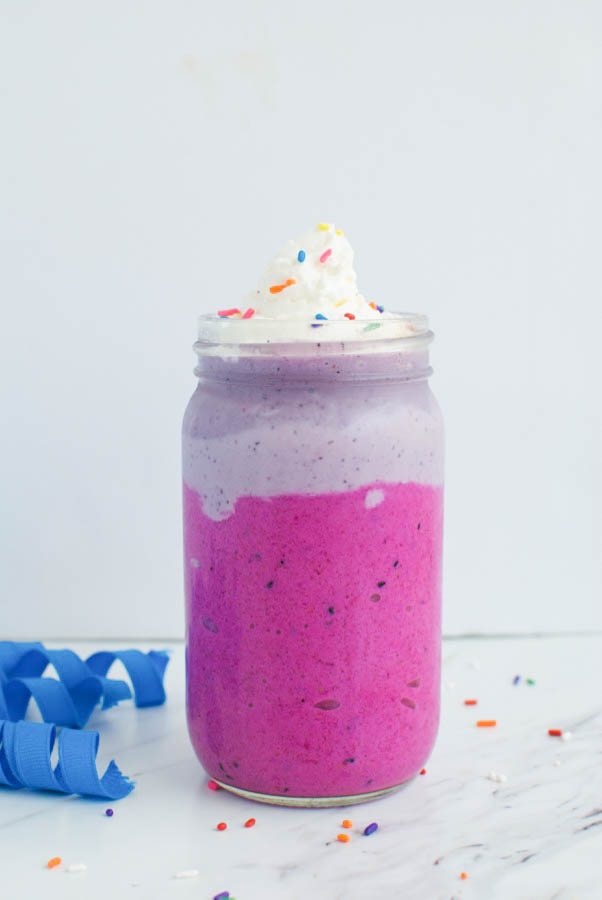 As a nutritionist and food-loving parent who wants to raise healthy yet non-obsessive eaters, I frequently think about my approach to food at home. I like to offer healthy options, encourage my kids to try new foods, and provide an environment where the produce is plentiful and the treats, though present, are not a huge focus.
Overall, I view my nutritional job as a parent is to:
Create a healthy food environment.
Model good eating habits (this includes indulging in treats I love, without shame or guilt).
Assist my kids in developing a good relationship with food.
Do I care if my kids go a day without eating a vegetable? Not really. Will I freak out if they have hot pink cake and blue Kool-Aid at a birthday party? No. (Well internally, maybe. But externally, no). Do I expend a lot of effort procuring real food and cooking it in various ways so my kids will be more likely to eat it? Yes!
All of this is part of my parenting story, my food philosophy, and my hope that my (and other) kids will be able to enjoy and appreciate food in a way that enriches their lives without stressing them out. It's a process that ebbs and flows, but I enjoy thinking about it all and doing my best – though my best always looks a little different.
If I had to guess, I'd bet that my friends Sonja and Alex of A Couple Cooks – who recently adopted a darling little boy – will also spend time pondering their family's approach to food. They've undergone a wonderful food journey, and long yet fruitful adoption journey, and I am excited to see how these two paths intertwine over the years. One thing I know for sure, is that their sweet baby Larson Ames will always feel wholeheartedly loved and cared for. And no particle of food can compare to that.
In honor of Sonja and Alex's virtual baby shower, I wanted to make a real food snack that was also fun, lighthearted and childlike. So I decided to tackle the now famous Unicorn Frappuccino – a drink I would frankly never buy and hope my kids never find out about – since it has so much homemade potential.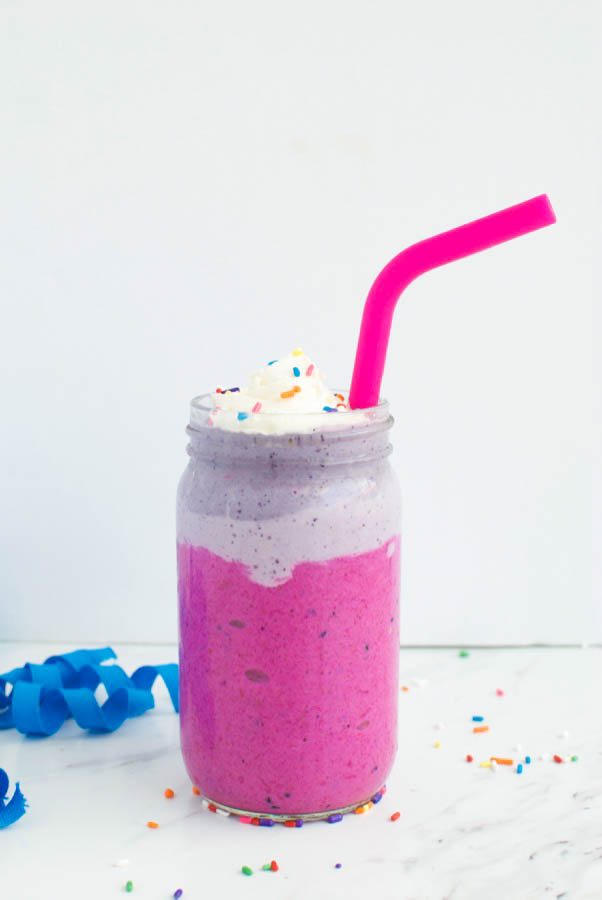 This fruity version is less sweet than the Starbucks Unicorn Frappuccino and made from real food. Most importantly, it tastes delicious!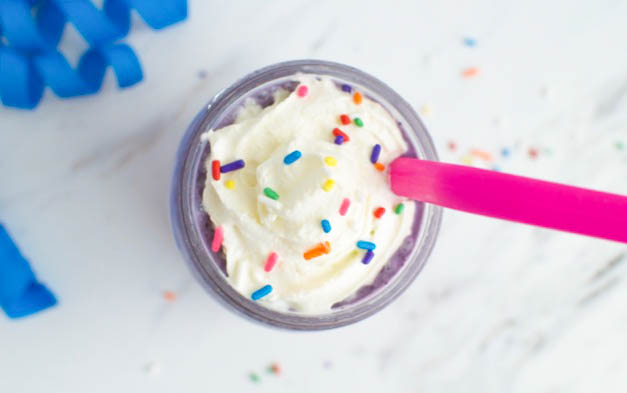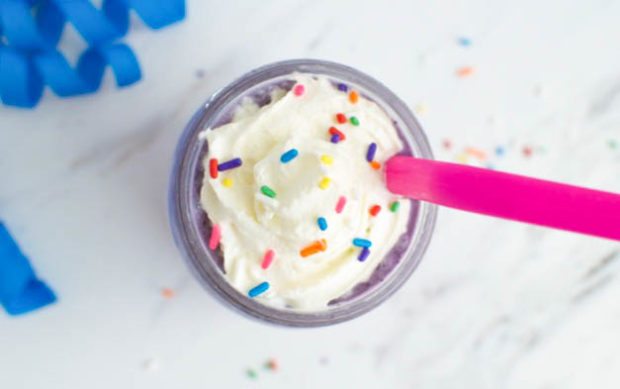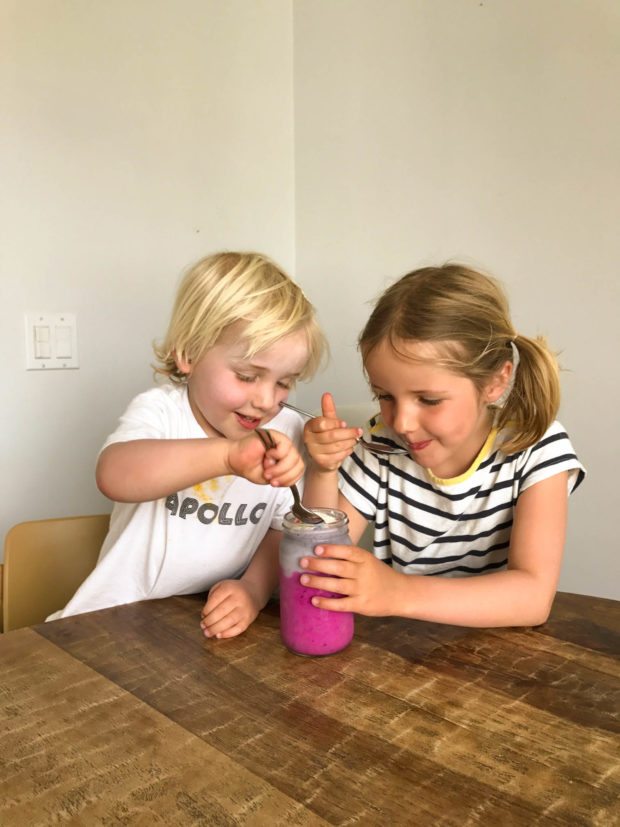 Congratulations, Sonja, Alex and Larson. May your family journey be filled with joy, adventure, and of course, good food.

Healthy Homemade Unicorn Frappuccino Copycat
A homemade, real food take on Starbucks' trendy Unicorn Frappuccino
Ingredients
For the pink:
1 packet frozen pitaya (dragon fruit) - I bought at Whole Foods
1 frozen banana, cut into chunks
1 cup frozen strawberries
1 cup plain whole milk yogurt
For the blue:
¼ cup frozen blueberries
½ cup Coconut Bliss vanilla coconut ice cream (or any natural ice cream or yogurt)
Whipped cream and sprinkles for serving (Let's Do Organic! makes organic, naturally colored sprinkles)
Instructions
Place two mason jars or glasses in the freezer to chill.
In a food processor (or blender, if you have a Vitamix or similar blender), blend the pitaya, strawberries, banana and plain yogurt until smooth yet still thick.
Using a spatula, scrape half the mixture into one of the jars/glasses, and half in the other. Place back in the freezer while you make the blue layer.
Rinse the food processor, then place the blueberries and coconut ice cream into the bowl and blend until smooth. Pour on top of the pink layer.
Top each smoothie with whipped cream and sprinkles, if desired.
Other snack recipes from Sonja and Alex's surprise virtual baby shower:
Flourishing Foodie  |  Avocado and Asparagus Tartines with Basil Pesto
The Full Helping  |  Individual Strawberry Chocolate Crisps
Snixy Kitchen  |  Roasted Lemon Mint Pesto Tartines, Two Ways
This Mess Is Ours  |  Coriander & Lime Scented Cashews
Making Thyme for Health  |  Hemp Ranch Hummus
Two Red Bowls  |  Buttered Eggs on Toast, with Radish & Parsley
Cookie and Kate  |  World's Greatest Guacamole
Dolly and Oatmeal  |  Sunshine Mung Bean Spread w/ Gluten-Free Za'atar Bread
Edible Perspective  |  Tropical Oatmeal Snack Cookies
Eat This Poem  |  Red Pepper and Walnut Hummus
Brooklyn Supper  |  Roasted Cauliflower Tacos with Cilantro-Avocado Sauce
Gather & Dine  |  Muffin Tin Granola Cups with Lemon Greek Yogurt and Berries
The Fauxmartha  |  Laura's Sunshine Crackers
FoodieCrush  |  Baked Beet Chips