I'm not usually a packaged food fan. When it comes to pizza, salad dressing and mac-and-cheese, I prefer to make my own from scratch so I can control the ingredients.
However, since becoming a mom, I've realized the value in keeping a few prepared foods on-hand for "emergencies" (emergency = it's 6pm and I haven't given a single thought to what's for dinner). You will never find Spaghetti-O's in my cabinet or Hot Pockets in my freezer. Me and those kinds of foods just don't mesh and never will. But you probably will find some carefully-selected convenience foods in stock for days that just escape me.
I pay close attention to the food and ingredients that come into my kitchen. When selecting packaged or processed foods, this is what I look for:
Ingredients I recognize and would be likely to cook with at home

Minimal and/or recycled packaging
Organic or Non-GMO
Brands who source ingredients from sustainably-run family farms
Nitrate/Nitrite-free (when a product contains meat)
And when I'm serving a frozen pizza or any other store-bought entree, I always accompany it with a generous helping of fresh or frozen produce so we meet our veggie "quota" for the day. Sometimes I make a salad or sauté some veggies, but even raw vegetables with dip will do the trick.
Here's an example of a quick meal I made recently when we had a few kids for dinner unexpectedly.
Pepperoni pizza cut into little squares, perfect for little mouths
(and also perfect for dipping the soft crusts in warm marinara sauce)
Fresh strawberries and grapes
Carrots with yogurt dip (plain Greek yogurt mixed with pesto, salt, and lemon juice)
It was all on the table within 25 minutes.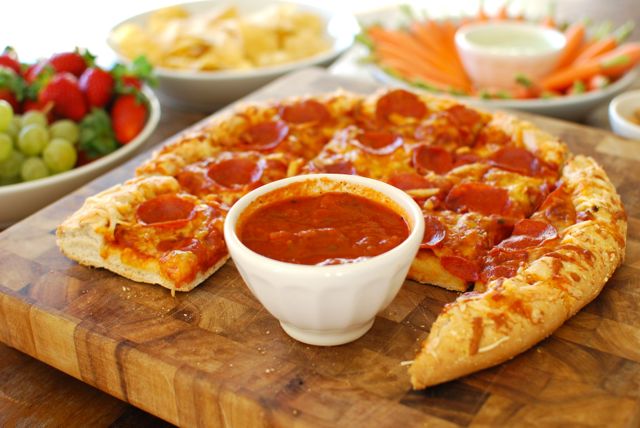 I didn't have to sacrifice my food values or my children's health in an effort to get dinner ready fast, and it goes without saying that everyone was happy with pepperoni pizza.
Want to try Annie's Rising Crust pizza too? Grab a coupon here to get $1.50 off your next purchase!
The following post is sponsored by Annie's. As always, all thoughts and opinions are my own.