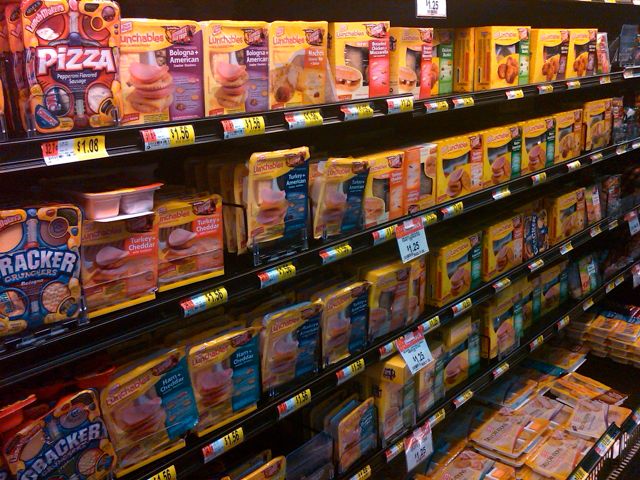 The term "processed food" is a tricky one, because it lumps things like frozen peas and milk into the same category as Flaming Hot Cheetos and Rainbow Sprinkles. So before we dive into this subject, let's divide processed foods into two groups:
Foods you could make at home (with ingredients procured from a normal store): hummus, bread, peanut butter, cheese, yogurt, frozen fruit, beans, canned tomatoes, etc.
Foods you could not make at home (because the ingredients are not used in home kitchens or not available to the public): Cocoa Puffs, Pop Tarts, Totino's Pizza Rolls, Jimmy Dean breakfast sandwiches, French toast sticks, Skittles, and the list goes on…
All of the bad press and health-related concerns lie within this second kind of processed food: the kind that contains unrecognizable ingredients and hardly resembles real food.
With these kinds of processed foods, the problems are many. Below are a few of the biggest concerns.
Processed foods are…
Made from ingredients that may not be safe. Many ingredients in processed foods are "generally recognized as safe," which only means that a food company has told the FDA that the ingredients they are using are safe. No third party verifies this information; it's simply accepted as truth and then we consumers are the guinea pigs. What's even crazier is that this system is voluntary, so companies can elect not to tell the FDA that a new ingredient (and we're not talking butter and sugar here, but rather things like "monosodium glutamate" and "sodium diacetate") has been included in their product. Thus, all sorts of not-so-safe ingredients – including proven carcinogens – are present in our food.
Calorie dense. Meaning they pack a lot of calories into a small amount of food – much more than most whole foods.
Specifically developed to appeal to humans' biological taste preferences, which often include tastes not found in nature (like salty + sweet + fatty all in the same food…a combination that is not present in real, whole foods).
Way too cheap. For how much packaging, processing, and science goes into these foods, it's amazing that they are so inexpensive. The reason for this is that many processed foods are made from cheap, low quality ingredients like corn and soy derivatives.
Addictive. Whether they are truly addictive – like a drug – is still being debated, but studies have shown that the properties in many processed foods trigger pleasurable reactions in our brains that keep us coming back for more.
Probably made from genetically modified ingredients. Unless you're buying organic, you can bet that the soy or corn product in whatever you're eating came from a genetically modified plant.
Eating highly processed foods once in awhile won't kill you, but relying on these for regular use is detrimental to your health in many ways. Choose real, whole, unprocessed foods as often as possible.