Most of us don't give much thought to where our chocolate comes from. But it's time we start.
Why?
Because the cocoa industry takes up 18 million acres of land and employs over 40 million people. Unfortunately, child labor, poor working conditions and environmental destruction are common.
The purchasing decisions we make can have a big impact on the treatment of the land and people that provide us with our beloved chocolate treats.
This Valentine's Day, treat your sweeties to sustainably-produced chocolate. Your Valentines will love the taste and flavors of this high quality candy, and you'll love that your purchases are supporting fair labor and environmental preservation.
Here's what to look for when buying chocolate: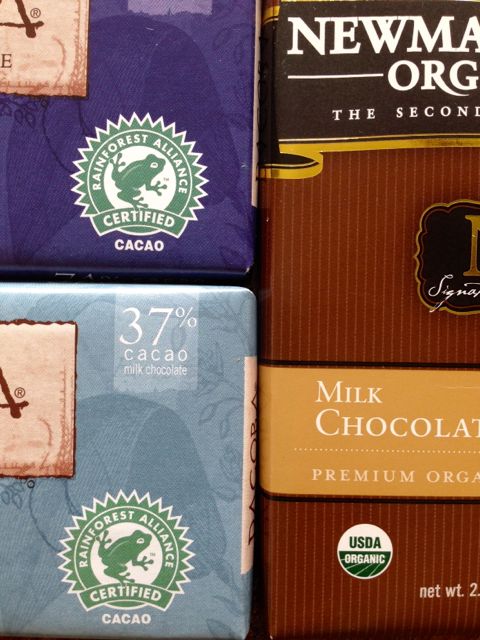 Rainforest Alliance Certified
When you see this green frog seal on your candy wrapper, you can be sure that the chocolate inside comes from responsibly managed farms that conserve the earth's forests, protect wildlife and improve the lives of workers, their families and communities.
Organic
Look for the USDA Organic seal, which assures that no synthetic pesticides or fertilizers are used in production – which is good for you, farm workers and the environment. Organic cocoa is also usually cultivated under existing forest canopy, so as not to displace habitat of birds and other wildlife.
Fair Trade
Chocolate that's been certified Fair Trade ensures more stability and economic self-sufficiency for chocolate producing regions. There are fewer middlemen involved in fair trade chocolate, so the farmers and producers can earn a better wage for their hard work and have more control in the economic decisions that affect them.
Luckily, you don't have to sacrifice a thing by buying Rainforest Alliance Certified, Organic or Fair Trade chocolate. These treats are available nearly everywhere, and in the most delectable flavor combinations!
Here's a list of Rainforest Alliance Certified chocolate brands to make your Valentine's Day shopping even easier.