After seven days of pomegranate-inspired recipes and ideas, POM Wonderful Week has come to a close.  If you missed it, here's a quick recap.
Since pomegranates are one of my favorite fall treats, I felt lucky to be one of the food bloggers chosen to host a POM Wonderful Dinner Party.  POM sent me an enormous box of big, beautiful pomegranates, which were not only perfect for eating, but also for using as decor for the party.
I also felt inspired to include a few of my other favorite fall fruits…
like persimmons, fresh and dried dates…
pumpkins, and clementine oranges on the vine.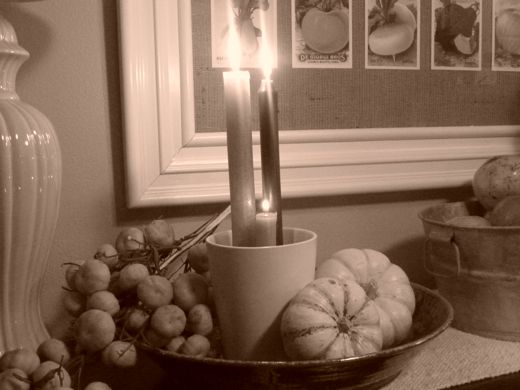 It was a true harvest party!  But on to the most important part…the food.  My guests and I started the night off with Pomegranate Moscow Mules…
a cocktail we're now all obsessed with…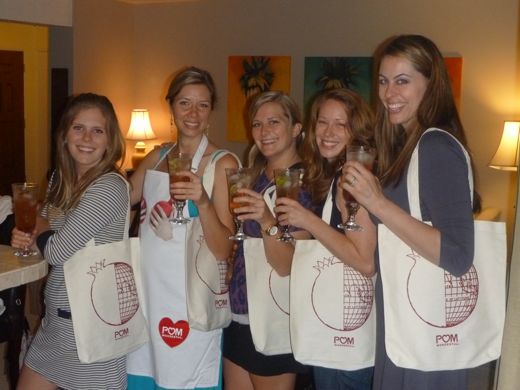 (given that I'm pregnant, mine was of course a virgin version, which was still fantastic).  We used these tasty bevs to wash down our appetizer, Pomegranate Citrus Salsa on salted tortilla chips: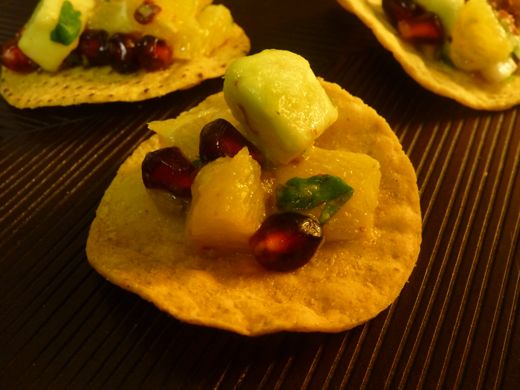 After whetting our appetite, we were ready to move on to the main course: Pomegranate BBQ Chicken with Roasted Potatoes and Mini Pearl Onions…all sprinkled with fresh parsley and pomegranate arils (what the juicy seeds are officially called)…
The picture doesn't do this dish much justice, but you can see here just how tasty it was…
as was the salad…
…a mixture of baby greens, sliced persimmons, pomegranate arils, goat cheese, and candied pecans, drizzled with a Pomegranate balsamic vinaigrette.  After we finished up dinner and chatted awhile…
I did a little demonstration on the easiest way to open and seed a pomegranate:
And then we all had some fun playing around with our POM goodies…
before we finally found some room for dessert:
Vanilla Bean Ice Cream with Pomegranate Pear Compote, sprinkled with a few pomegranate arils for extra color and crunch.  Though we were full, none of us had trouble polishing off the contents of our bowls…
Alas the dinner was over, but what a blast.  Each guest left with a POM Wonderful bag of recipes and coupons, plus a couple of the fresh pomegranates, so they could continue the fun at home.  Later that night, I seeded the rest of my pomegranates.  Some of the arils I froze (you can freeze them for up to 3 months!), but most of them I just threw in a container in the fridge, so could I enjoy them on just about everything I eat until the season's over…
Thank you, POM Wonderful, for this opportunity!