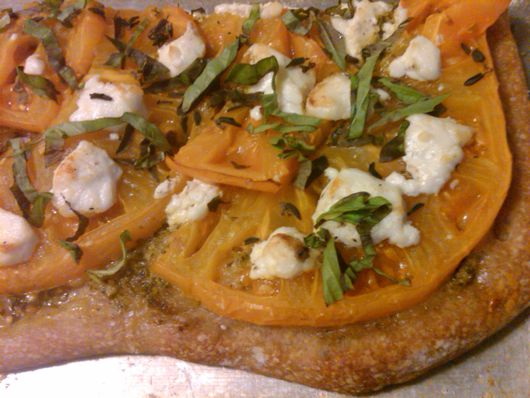 With tomatoes at their peak, it's the perfect time to make margarita pizza.  Here's my favorite way to do it.
Tomato Basil Pizza
1 lump pizza dough, preferably whole wheat
Pesto
Grated Parmesan cheese
Mozzarella, Goat, or Feta cheese
Thinly sliced tomatoes (any kind or color)
Salt & pepper
Lots of fresh basil leaves, rough chopped or torn
Preheat oven to 475.  Rub some olive oil on a clean baking sheet, then sprinkle with a little flour or cornmeal.  Stretch dough out with your fists or a rolling pin and lay on baking sheet.  With a spatula or back of a spoon, spread the pesto all over the dough, then generously sprinkle Parmesan cheese.  Lay the tomatoes in a thin layer around the dough, then top with the remaining cheese, sprinkle with salt & pepper, and drizzle with a little olive oil.  Bake for 10-12 minutes, then sprinkle the fresh basil all over the top.  Let cool 3-4 minutes before slicing.
Tip: If your tomato pizzas turn out soggy or juicy on top, try this: place tomato slices in a colander with a generous sprinkle of salt.  Let sit for 10-15 minutes, tossing gently once half-way through, before laying on the dough.  The salt helps release some of the tomato juice before it ends up on your pie.
If you're too busy, lazy, or hot for pizza, a whole wheat bagel/toast with cream cheese, tomato slices, and fresh basil leaves is a great alternative: