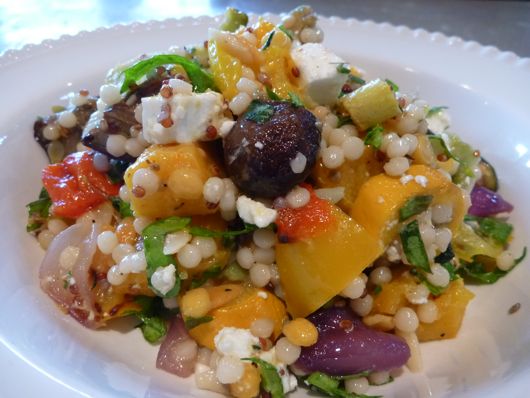 Question:  I just found out today that I'm going to be hosting a huge Italian feast for my boyfriend's family next month.  They are all Italian, and I don't want to embarrass myself.  Do you have any authentic-tasting Italian recipes that won't make us all fat?
Answer: Yes! Italian food doesn't have to be heavy.  Here is a light Italian-inspired recipe to try.  Your guests will not be disappointed!
Roasted Vegetable Orzo
1 lb orzo pasta
2 bell peppers
1 eggplant
2 red onions
4 zucchini or yellow squash
8 oz  white or crimini mushrooms
juice of 2 lemons
2 cups basil leaves, rough chopped
1 cup fresh parsley, rough chopped
1 1/2 cups crumbled feta cheese
1/4 cup toasted pine nuts
Preheat oven to 425.  Cut all vegetables (except for mushrooms–leave those whole) into equal sized pieces and place in a single layer on 2 baking sheets.  Toss with 1/4 cup extra virgin olive oil and generous sprinkles of salt & pepper.  Roast for 30-45 minutes (until browned and caramelized), tossing half-way through.  While veggies are roasting, cook pasta according to package directions, being sure to add a large pinch of salt to the water.  Put the lemon juice and another 2 Tbsp olive oil in the bottom of a large bowl.  When the pasta's cook, drain and rinse it, then place in the bowl and gently stir until liquid is absorbed.  Add the trays of roasted veggies, the feta cheese, and the fresh herbs to the bowl and toss gently to combine.  Garnish with the pine nuts.  Serve warm, cold, or at room temperature.
Note: use whatever veggies, cheese, or nuts you'd like in this recipe.  For extra flavor, add chopped sundried tomatoes, kalamata olives, chopped green onions, or quartered artichoke hearts.