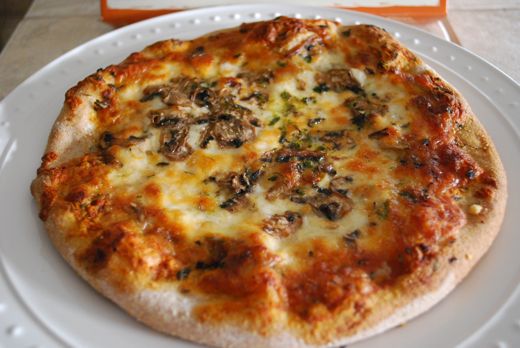 You may have seen my friend Angie's recent post about her extremely boring diet.  She doesn't like to cook (at all), but wants to eat healthy, so she ends up eating the same old raw veggies and frozen foods.  My taste buds have fallen asleep just thinking about it.  Luckily, there are tastier ways to eat healthy, even when you're not a cook.
One of my own favorite quick dinners is frozen pizza.  Pizza has a bad rap, but it can actually be a healthy choice, especially if you doctor it up with extra veggies or turn it into "salad pizza"…
a.k.a. pizza topped with a simple salad of mixed greens & crumbled cheese or chopped olives in a vinaigrette.  Eat the salad then the pizza, eat the salad as a pizza topping, or fold the pizza over and eat them together.  Talk about a quick and easy dinner!
When it comes to frozen pizza, some brands taste better and are significantly healthier than others.  My all-time favorite is Full of Life Flatbread, which is not only a delicious frozen pizza but also a fantastic restaurant in Los Alamos, CA.
They use local and organic ingredients from farmers they actually know, and make all their pizzas by hand.  The result is ridiculously good pizza that you can feel good about eating.  Use this guide to find their pizza in your area…and see below for how you can win FREE Full of Life Flatbread!
Some other frozen pizzas I recommend:
Annie's Rising Crust Pizza — the only "rising crust" frozen pizza made with real yeast, rather than chemical dough conditioners.
Kashi Thin Crust Pizza — serve alongside chopped tomato, cucumber, and bell peppers drizzled with olive oil and red wine vinegar.
Whole Foods brand pizza — add sliced tomatoes or thawed & drained frozen spinach before baking.
Newman's Own Thin & Crispy Pizza — bonus: 100% of profits go to charity.
Amy's Kitchen pizza — check the Nutrition Facts label on these, as some are much higher in fat and calories than others.
Want to win FREE Full of Life Flatbread pizza??!! Leave a comment telling us your favorite kind of pizza and you'll be automatically entered to win.  Winner will be picked Wednesday May 18th!