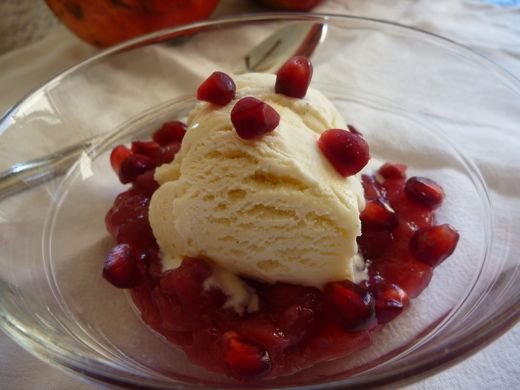 Don't know what compote is?  Don't worry.  It just means stewed fruit or fruit sauce, and this one only takes about 5 minutes to make.  You could swap the pears for halved grapes, diced oranges, diced apples or persimmons (would take a bit longer to cook), or even cranberries (with a little more sugar).  It's divine served over or under vanilla ice cream, stirred into plain yogurt for breakfast, or spread on toast.  Garnish with pomegranate seeds for an extra crunch.
Learn here how to open and seed a pomegranate.
Pomegranate Pear Compote
Ingredients
2 Anjou or Bartlett Pear, peeled and diced
1 tablespoon Sugar
½ cup Pomegranate Seeds, optional
1 ½ cup POM 100% pomegranate juice
2 tablespoons Cornstarch
Instructions
In a small pot, mix together cornstarch and sugar over medium heat. Pour in juice and pears, and let mixture come to a gentle boil until it thickens to desired consistency (kind of like a thin jelly - it will get thicker as it cools).
Let cool to warm or room temperature and serve with ice cream or yogurt. Garnish with pomegranate seeds if desired. *Variation: make compote with 1 cup POM juice and 1 cup POM Tea.