Easy recipes make cooking at home a lot more doable. But some nights, I need something even easier. With hungry kids at my feet and no planning or preparation under my belt, I just need an idea – a way to combine the random ingredients in my fridge into something my family members will eat and enjoy.
Sometimes this can feel like a big challenge, but other times the ingredients come together pretty easily and we end up with a meal that's surprisingly awesome. Many of our favorite family meals are actually born this way.
So today I wanted to share a few of our recent favorite unplanned dinners. These are easily customizable depending on the foods you have on-hand – and there are no recipes required!
Platter Dinner
The plan: roast one veggie (asparagus, snap peas, broccoli, cauliflower, etc.) and serve everything else as-is on a big cutting board or platter with crackers and/or toasted bread on the side. We love turkey or salami, a couple different cheeses, a couple dips like hummus or tapenade, and plenty of veggies and fruits.
Side bonus: This meal is perfect for involving the kids!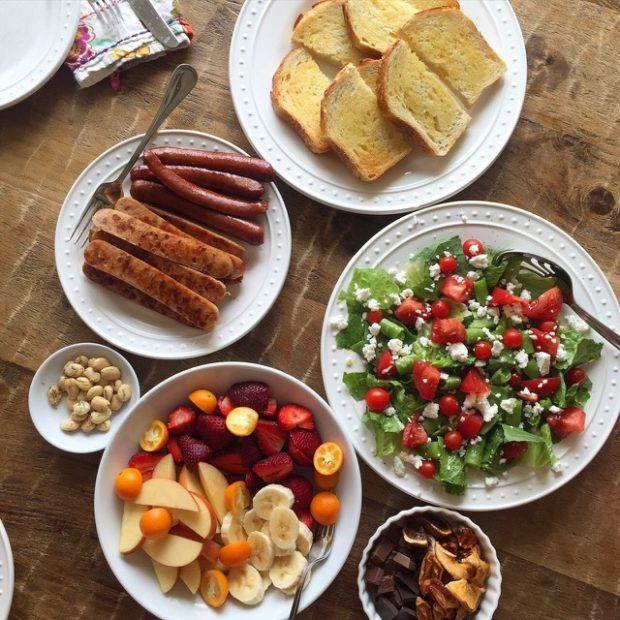 Random Assortment
The plan: A collection of colorful fruits, a plate of vibrant veggies, an easy protein (like sausage, rotisserie chicken, baked tofu, boiled eggs), and some little nibbles.
Side bonus: All the important food groups are represented, but in a very kid-friendly way.
Tortilla Pizza
The plan: Spread sauce or pesto on a whole grain tortilla, top with cheese and any other desired topping, bake at 400 on a rack in the toaster oven for 4-6 minutes and you have pizza.
Side bonus: Since these are essentially "personal" pizzas, everyone can choose their own toppings. Make all at once in the regular oven if you want them all to cook at once.
One Pan Pasta
The plan: Combine a couple jarred or canned prepared foods from your pantry with pasta and some fresh ingredients and you have a unique & flavorful pasta dish in the same amount of time it takes to make plain old spaghetti.
Side bonus: You can use an alternative pasta like this grain-free garbanzo bean variety for added protein & fiber.
 
Smoothie Bowls
The plan: Blend together lots of frozen fruit, a handful of veggies (leafy greens, frozen broccoli or cooked carrots) with plain Greek yogurt, milk, and chia or hemp seeds. Serve these with granola, nuts, seeds and fresh fruit for topping. (Here's how I made the one above).
Side bonus: Only you will know how nutritious these are. Everyone else will think this is treat night!