Serve this crunchy kale salad as is or add beans, chicken or hard boiled eggs for a heartier meal. Either way it has the perfect balance of flavor, texture and crunch.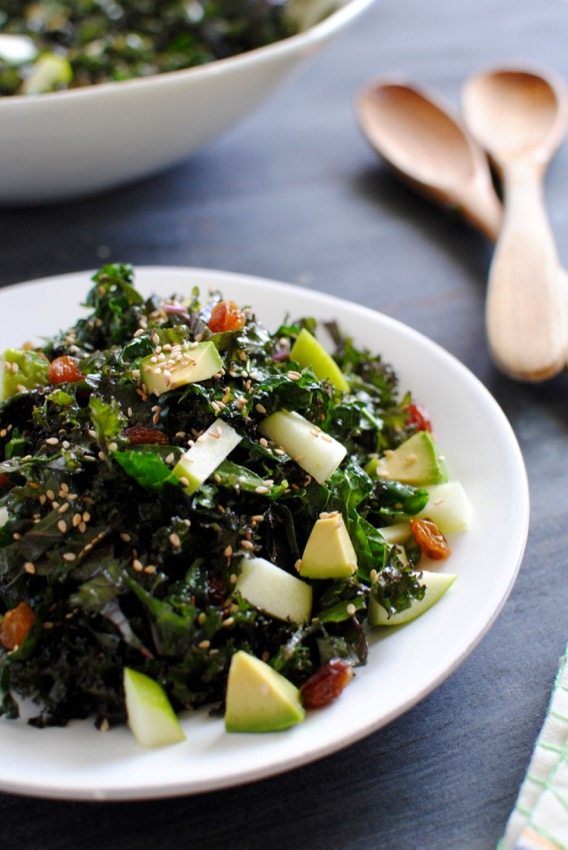 Ninety-nine percent of the time, I buy pre-washed salad greens. While I'm theoretically opposed to extra packaging, I know that my family is going to eat more salad if I don't have to wash, dry, de-stem and chop our greens.
Once in awhile though, I forget what a pain it is to deal with dirty greens – or I see some good-looking kale at the farmer's market and can't resist. I usually regret this as I'm later laboring over my kitchen sink, but I never regret the amazing salads we get to eat when I'm done!
This Crunchy Kale Salad was born on a day like that – when my favorite vendor had 6 bunches of black and purple kale remaining at the end of the market. I bought them all, came home and made this salad for the next three nights. It was a lot of effort, but totally worth it.
To me, Kale Salad is the ultimate. No other baby green can compare to that crunch and texture you get from kale. I could eat a family-sized portion all by myself, and often do.
This particular salad also involves my other favorite ingredients – apples, avocado and golden raisins. With a sprinkle of sesame seeds this salad is just about perfect.
Try topping this with boiled eggs, garbanzo beans and/or grilled chicken for a heartier main meal. Enjoy!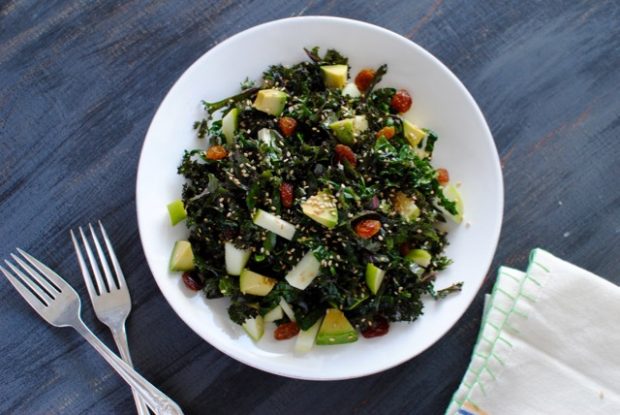 Crunchy Kale Salad with Avocado and Sesame
This salad is a perfect mix of flavor, texture and crunch!
Ingredients
1 small lemon
3 Tbsp olive oil
1 Tbsp honey
¼ tsp salt
Leaves from 1 large bunch kale - chopped
1 large crunch apple (I like Granny Smith, Honeycrisp or Pink Lady)
1 large avocado
¼ cup golden raisins
3 Tbsp toasted sesame seeds
Instructions
Squeeze the lemon juice into the bottom of a large salad bowl. Whisk in the honey, olive oil and salt.
Add the chopped kale and use your hands to toss the kale with the dressing until all the leaves are well coated. Let sit 5 min.
Toss again with your hands, then add remaining ingredients and toss gently to combine.
Serve as is or top with beans, chicken, hard boiled egg or feta cheese.