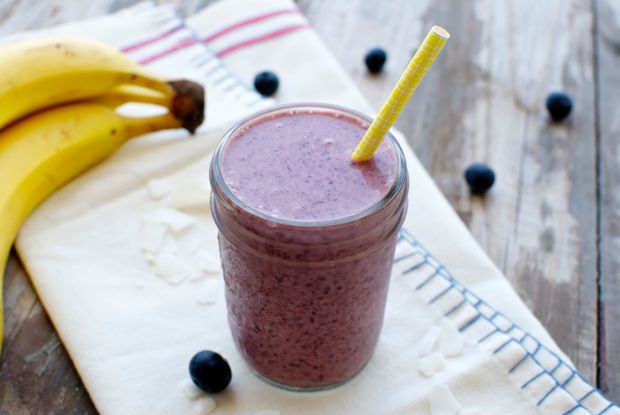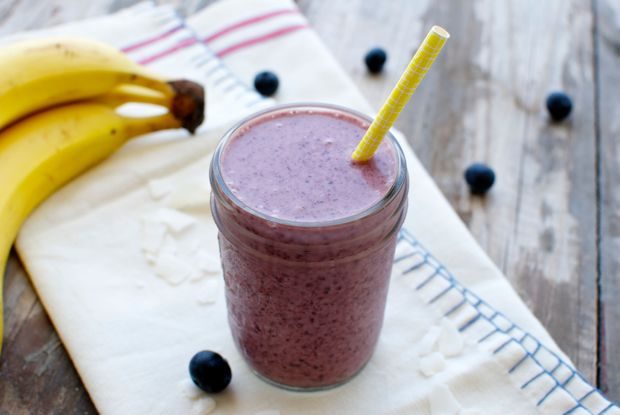 As a daily smoothie-eater, I've learned that just about anything can go in a smoothie. From oats to chia seeds to vanilla to avocado to sweet potatoes, I love getting inventive with smoothie ingredients.
But sometimes, you gotta get back to basics. Because all you really need for a smoothie is fruit and a little liquid.
Simple blends – like this Blueberry Banana Coconut Smoothie – help remind me to taste and appreciate each flavor. And they can be just as delicious as the smoothies with long ingredients lists.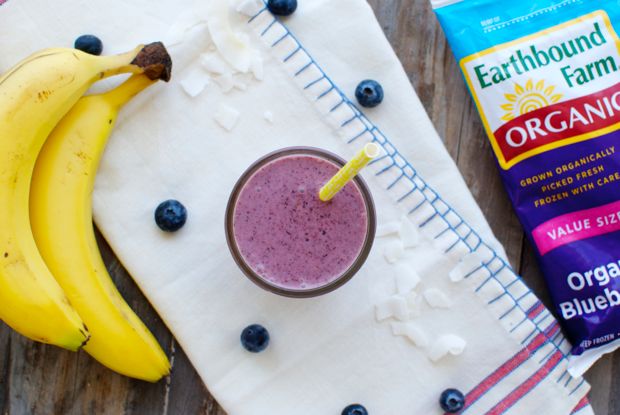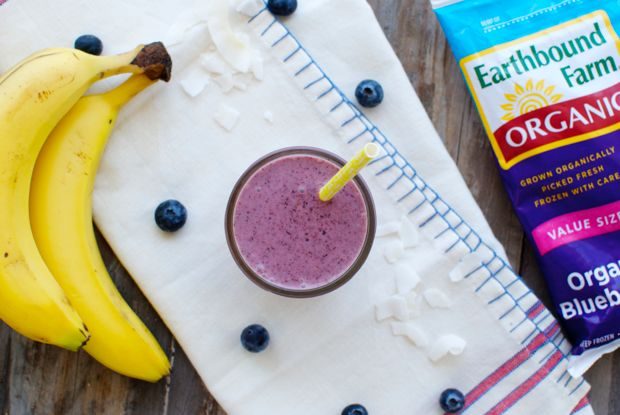 The key to any good smoothie, but especially a simple one, is to use good ingredients. For me that means ripe, organic fruit – be it fresh or frozen.
Why organic? Because organic fruit is grown without toxic pesticides, herbicides and fungicides, which means that the produce you're blending up is as pure as possible. Even fruits that aren't on the "Dirty Dozen" list provide benefit when you buy organic, since organic farming better protects every part of the food production process, from seed to table.
There are just three (tasty!) ingredients in this smoothie.
Here's why I've chosen to buy the organic option for each:
Bananas – Though bananas have a thick peel around the fruit you eat, conventional banana farming uses a huge amount of synthetic herbicides, insecticides and fertilizers, which wreaks havoc on the health of farm workers and also damages the environment. I buy organic bananas to support a better life for farm workers and to protect the communities surrounding banana plantations. The 99 cents a pound compared to 79 cents is a small price to pay.
Blueberries – These berries often appear on the Dirty Dozen list, which means conventional berries may contain high amounts of pesticide residues even after washing. I always opt for organic berries so as to protect my family from exposure to toxic chemicals.
Coconut milk – I don't know a ton about coconut production, but I do know that whenever the demand for a product or ingredient grows, like has happened with coconut recently, there can be negative consequences on the farmers, workers and environment. I trust that organic brands who are sourcing fair trade, sustainably grown coconut milk will help protect the land and people as much as possible.
These three high quality ingredients help make this smoothie perfectly creamy, sweet and nutritious. No matter how you blend these, it's hard to go wrong!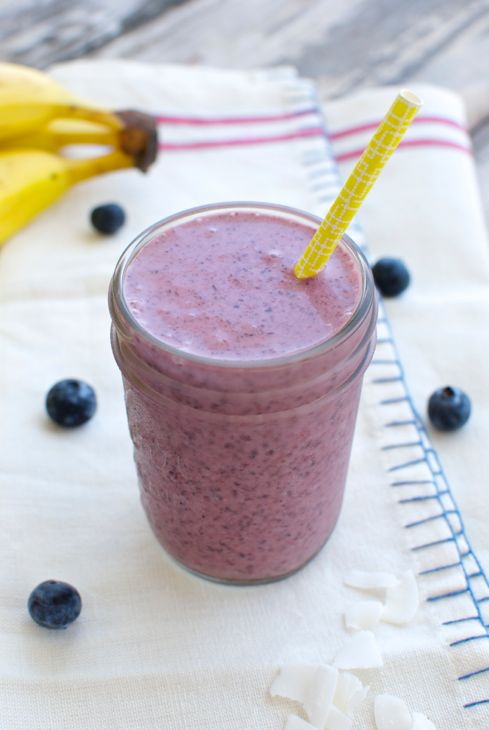 Happy sipping!

Blueberry Banana Coconut Smoothie
Don't be fooled by this short and simple ingredients list. This smoothie is full of flavor!
Ingredients
¾ cup canned coconut milk
2 Tbsp water
2 bananas
2 cups frozen blueberries
Instructions
Place all ingredients in a blender and blend until smooth. Add 2 Tbsp more water if necessary.
Pour into two glasses and enjoy with a friend.
This post is sponsored by Earthbound Farm, with whom I partner because I believe so deeply in their brand and practices. As always, all thoughts and opinions are 100% my own. Thank you for reading and supporting my blog!