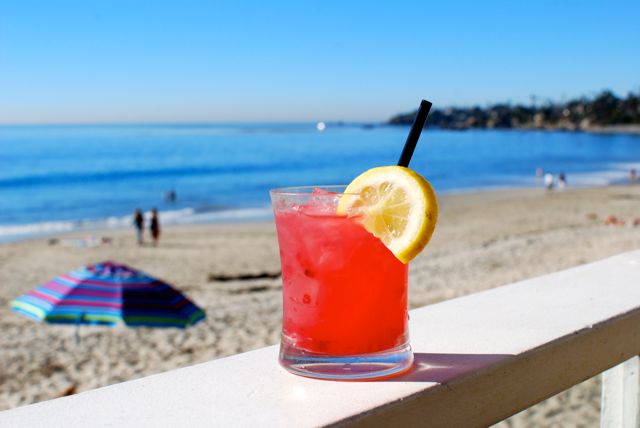 Need a few fabulous skinny cocktails for your Memorial Day weekend celebrations? Here are some easy recipes that will wow your tastebuds while respecting your waistline.
Each of the following skinny cocktails makes 2 servings, and can become non-alcoholic simply by omitting the alcohol in the recipe.
Skinnier Pina Colada. In a blender, combine one 11-oz container of pineapple-flavored coconut water, 1/2 cup rum, 1/4 cup light coconut milk, 1/2 cup fresh or frozen pineapple and 1.5 cups crushed ice. Blend until smooth and serve.
Watermelon Cooler. Blend 3 cups watermelon chunks with the juice of one lime, 1 cup water and 1/3 cup vodka. Chill and serve cold or over ice.
Blueberry Mojito. Combine one cup prepared limeade (such as Santa Cruz Organics) with the juice of one lime, 1/2 cup blueberries, 1/4 cup fresh mint leaves and 1/2 cup light rum. Add 1 cup sparkling water and serve over ice.
Raspberry Lemonade. Mix together 1.5 cups prepared lemonade, 1 cup fresh or frozen raspberries, 1/2 cup vodka and the juice of a lemon. After ingredients are well-combined and raspberries are a little mashed, serve over ice.
Basil-infused Salty Dog. Moisten the rim of 2 glasses and sip into Kosher salt to create a salt rim. Fill each glass with ice cubes then pour in 1/4 cup vodka and 1/2 cup red grapefruit juice (fresh is best). Stir in a few roughly chopped fresh basil leaves and serve. [Add a little chipotle chile powder to the salt if you like a kick!]
Spicy Cucumber Margarita. Stir together 1.5 cups prepared limeade, 2 Tbsp Grand Marnier or Triple Sec and 1/2 cup tequila. Mix in 8-10 thin slices of cucumber and 4 very thin slices of fresh jalapeno. Serve over ice with a lime wedge.
Peach Mimosa. Peel and cut 2-3 large ripe peaches, then blend with 1/2 cup ice until you have a smooth puree. Gently stir in a bottle of sparkling wine. [Makes 4 servings].
Do you have any favorite lower-cal cocktail? We'd love to get your ideas too!