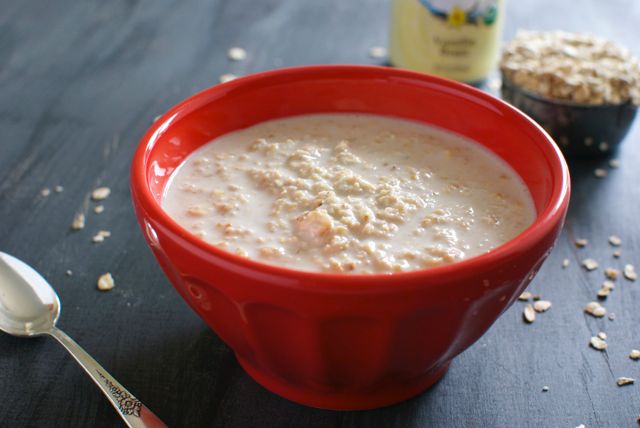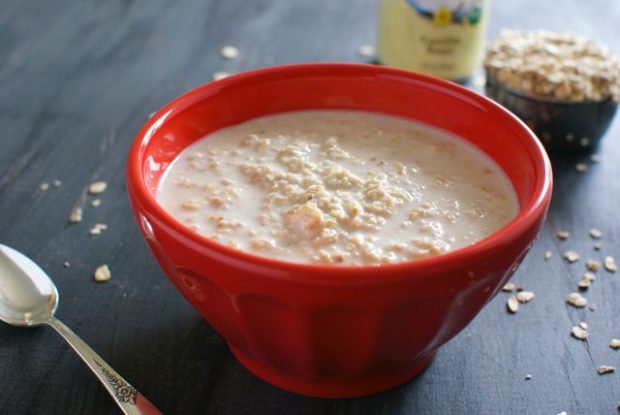 We've all heard that breakfast is "the most important meal of the day," though it's probably the meal we give the least attention.
At my house, mornings are like this: rush around packing lunches, getting people dressed (so much harder than it sounds), gathering everything we all need for school and work. Make breakfast for the kids, but then leave the house without having eaten anything myself. Oy!
Enter Overnight Oats.
When I first read about Overnight Oats on Kath Eats, I was intrigued but not sold. Cold, soaked oats for breakfast? How was this any different from regular oatmeal and why make it the night before?
Then I made a batch in a nearly empty peanut butter jar and realized just how tasty raw oatmeal – that's absorbed the flavors of  whatever liquids you've mixed it with – can be. Making overnight oats has revolutionized my morning routine and really helped to improve my daily eating habits.
The Creamy Vanilla Overnight Oats I'm sharing with you today are so easy to make, it's almost embarrassing. Just three ingredients – quick oats, chia seeds Organic Valley's Organic Balance Protein Shake – is all you need to make this perfectly sweet, delicious, high protein meal.
Why use Organic Balance? Because it provides the perfect flavor, sweetness and a big dose of protein thanks to real filtered milk, not protein powders or derivatives.
As far as I know, this is the only protein shake on the market that's 1) organic and 2) made with protein from real food. I keep a couple bottles on-hand at all times for on-the-go snacking, since high-quality "portable protein" can be hard to find. And now that I use Organic Balance for easy overnight oats, it's even more of a staple at my house.
Of course you could add other ingredients to these oats – sliced banana, frozen mango chunks, cinnamon, coconut flakes, etc. You can also heat the oats for 1-2 minutes before eating, if you prefer a hot breakfast. But if you don't have time for anything other than mixing the oats, seeds and Organic Balance, rest assured you will still enjoy a creamy, flavorful breakfast.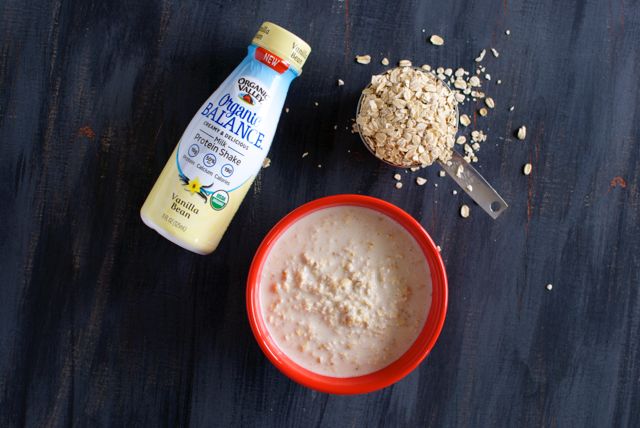 Creamy Vanilla Overnight Oats
These overnight oats are quick, easy and high in both protein and fiber!
Ingredients
½ cup quick oats
8 oz Organic Balance Milk Protein Shake
1 Tbsp chia seeds
Instructions
Combine the oats, chia seeds and Organic Balance in a jar or lidded container and let sit overnight (at least 8 and up to 24 hours) in the fridge.
Optional: Add chopped fruit and/or cinnamon for additional flavor and texture.
In the morning, eat as is or heat for 1-2 minutes in the microwave (if heated, let cool before enjoying). Top with any toppings you like.
Notes
You'll have 3 oz of Organic Balance left, since it comes in an 11 oz bottle. Lucky you! Drink up 🙂

Also - I don't recommend using old-fashioned oats in place of quick oats here, since the quick oats absorb more liquid and make a creamier bowl of oatmeal.

If you don't care for chia seeds, just leave them out. The oatmeal will be a little thinner in consistency but still delicious.
This post is sponsored by Organic Valley. As always, all thoughts and opinions are 100% my own. Thank you for supporting the brands that keep Eating Made Easy alive!