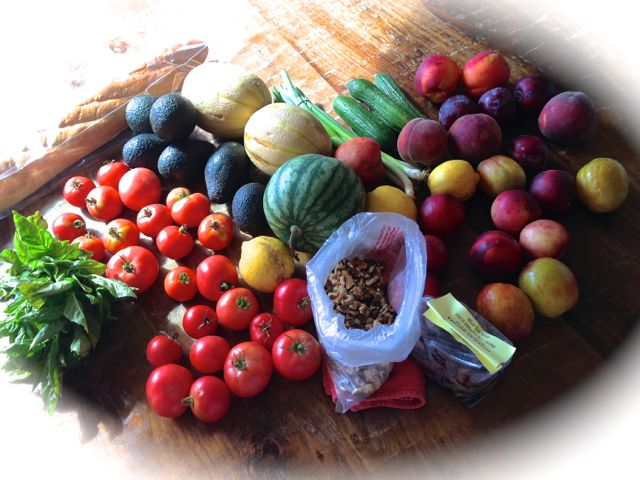 Eating healthy can be expensive, or it can be pretty cheap. Prices & availability vary depending on where you live of course, but even in the priciest areas, strategizing before you shop can really help keep food costs low.
A few weeks ago, I chatted with some real food experts about how to eat better for less. I loved their tips and immediately put some of them into action (Tip #1 below was revolutionary for me).  Since then, I've saved at least $25/week on groceries! Below are just a few of the tips these experts shared in our hangout.
9 Ways to Eat Better For Less
1. Keep your fridge bare enough so you can see everything in it. Americans waste at least 30% of the food they buy, which obviously wastes money too. If you can see everything in your fridge when you open the door, you're more likely to use ingredients before they go bad.
2. Grocery shop more often. Head to the store a few times a week to buy fresh food you'll use right away. Sure this takes a little more time, but you'll buy less (which saves time) and you'll be more efficient with your ingredients and can take advantage of great sales throughout the week.
3. Use the bulk bins. Need a cup of quinoa for a recipe? Head to the bulk bins and buy just a cup. This way you won't end up with a big box of it in your pantry that you forget about and have to throw away later.
4. Look for less packaging. The more packaging a food comes with, the higher it's cost usually is.
5. Expand your definition of the pantry. The "pantry" is not just the cupboard, but also the fridge and freezer! When a food eat frequently is on sale, buy a little more and save it in the freezer. Also take advantage of frozen vegetables & fruits which are often cheaper than fresh.
6. Buy in season. I've said this a million times, but it's worth repeating since local, seasonal produce is SO much cheaper than out-of-season. Look for specials in your grocery store or farmer's market – these are usually the seasonal items.
7. Shop the farmer's market right before it closes. You get the best deals at the end of the market because vendors are trying to get rid of their stuff. Also, look for the ugly or mis-shapen fruits & veggies – these often taste the best and cost less.
8. Start with one organic food or food group. Organic food is more expensive, so if you're on a tight budget, pick one or two foods you'll buy organic for now. Perhaps that's organic dairy or The Dirty Dozen. Here are some more tips for eating organic on a budget.
9. Learn to make soup. Soups are the perfect budget meal: they make the most of veggies that would otherwise go bad, can be made out of anything, and last up to a week in the fridge. After you have a few soup recipes in your cooking repertoire, you'll feel more confident experimenting.
Have other tips to add to this list?  Please share!