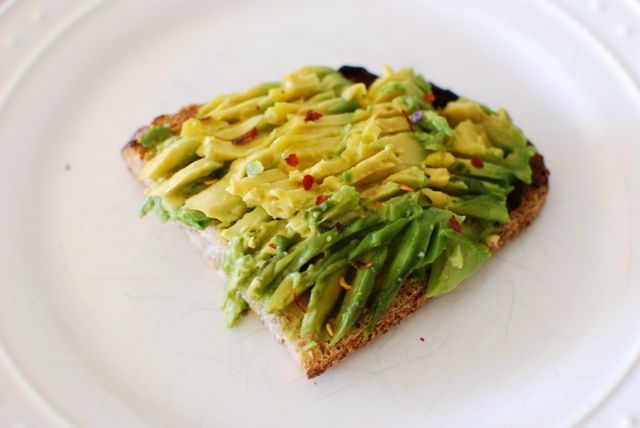 Sometimes I'm at a loss when it comes to lunch. I often end up eating breakfast food again – cereal, yogurt with granola and fruit, or a smoothie with some spinach thrown in. But these usually leave me hungry again before too long, and sometimes I want something just as quick but savory.
Recently, I've been hooked on whole wheat toast with avocado, salt, and chili flakes. Top this with a scrambled or fried egg, and you've got a healthy meal that satisfies for hours.
During summertime, I add thick tomato or cucumber slices to make this even more of a garden delight!
Toast with Avocado, Salt and Red Pepper Flakes
Ingredients
2 slices of whole wheat bread
½ an avocado
pinch of red pepper flakes
pinch of sea salt
Instructions
Toast the bread and top with thin avocado slices.
Top with a pinch of red pepper flakes and sea salt.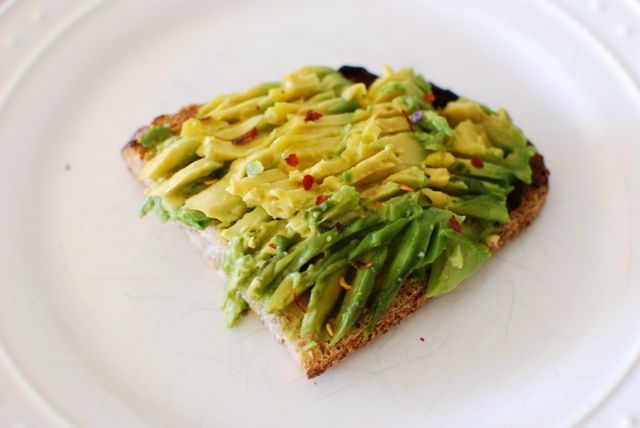 If I add egg, I use one large scrambled or fried egg. If I add vegetables, I add as many as I want!