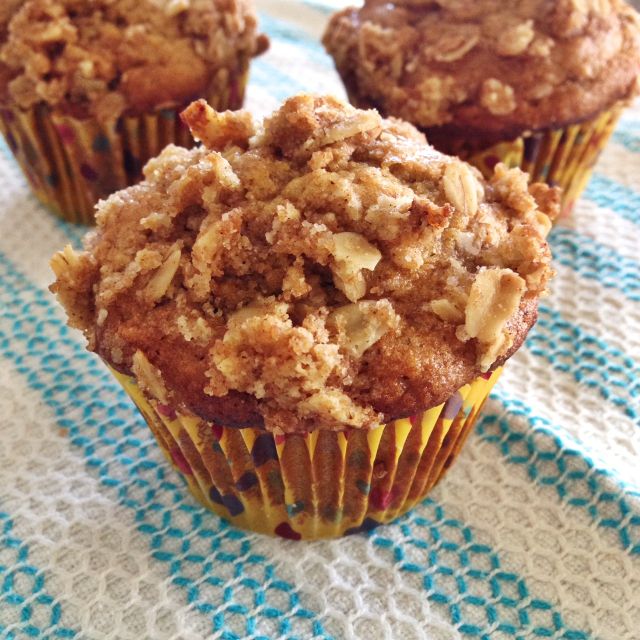 Every weekend morning we make a special breakfast (a.k.a something other than cereal or oatmeal). Lucy usually decides what we make, and loves to help with every step. She's becoming quite the pancake and waffle master!
This morning we felt like muffins, and after seeing I had four brown bananas just aching to be turned into something delicious, we decided on Banana Muffins with Streusel Topping.
These were so good that we each had one for breakfast and another one at lunchtime. Even Lucy. We may have to make them again tomorrow morning!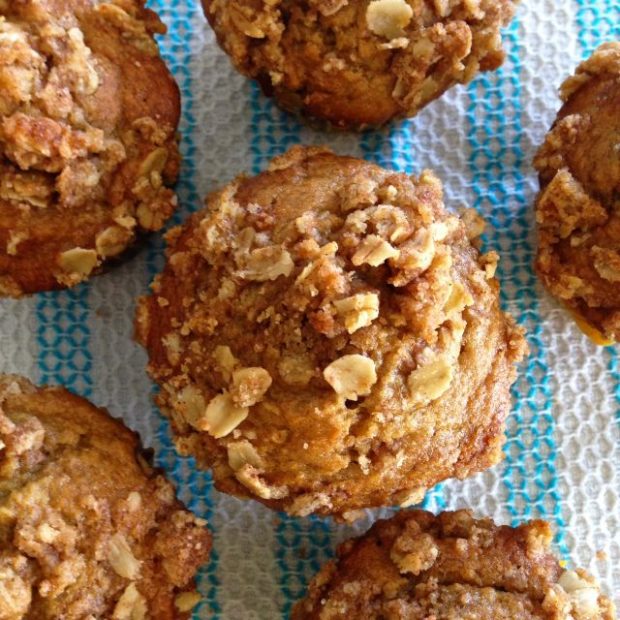 Banana Yogurt Muffins with Streusel Topping
These banana muffins taste indulgent but are whole grain and significantly healthier than bake shop muffins.
Ingredients
3.5 large very ripe bananas (about 1¾ cups), fork mashed
1 egg
¼ cup canola or other flavorless oil
1 tsp vanilla
½ cup whole milk yogurt (I use Stonyfield)
¼ cup sugar
¼ cup brown sugar
2 cups white whole wheat flour
1 tsp baking powder
1 tsp baking soda
½ tsp salt
½ tsp cinnamon
dash of nutmeg
Streusel Topping:
2 Tbsp whole wheat flour
3 Tbsp rolled oats
3 Tbsp brown sugar
2 Tbsp salted butter
Few dashes of cinnamon
Instructions
Preheat oven to 400. Line a muffin pan with paper muffin cups and spray with nonstick cooking spray.
Whisk bananas, egg, oil, vanilla, yogurt and sugars in a mixing bowl.
In a separate medium bowl, gently combine flour, baking soda and powder, salt, cinnamon and nutmeg.
Add the dry ingredients to the wet, ⅓ of the mixture at a time, stirring just until combined.
Divide batter among the 12 muffin cups.
For the streusel topping, combine all ingredients with a fork or your fingers, then sprinkle a little topping over each muffin cup.
Bake for 15-17 minutes.
Let cool in the muffin pan for 5 minutes, then remove to a cooling rack and wait another 5 minutes before eating.
Notes
Substitute any mashed fruit for the bananas - peaches, mangoes, etc - and you can make fruit muffins of all kinds!