Asheville, NC is such a cool little city.  Because it's in the middle of the mountains, there's a multitude of outdoor activities at your fingertips, plus the city itself has so much to offer…including incredible food, mostly from local growers and producers.   We had breakfast at Sunny Point Cafe and dinner at Tupelo Honey Cafe – both were fantastic.  For me, (and after seeing the picture below, I can tell for Tyler too) the highlight was the biscuit at Tupelo Honey.  Warm, fluffy, flaky, a little salty, and after a huge squeeze of homemade blackberry jam: magical.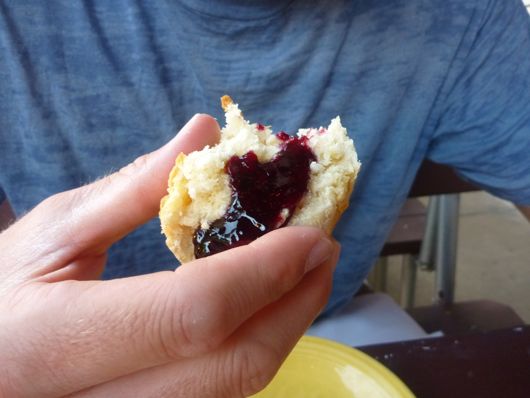 I've yet to make biscuits healthy (still not sure if it's possible, since I am unwilling–as always–to sacrifice taste or texture), so this might just be a good time to splurge.  Here's my favorite biscuit recipe, only I use butter instead of shortening, low-fat buttermilk, and cut the recipe in half for most occasions.
Here are a few more food (and a scenery) highlights from Asheville.