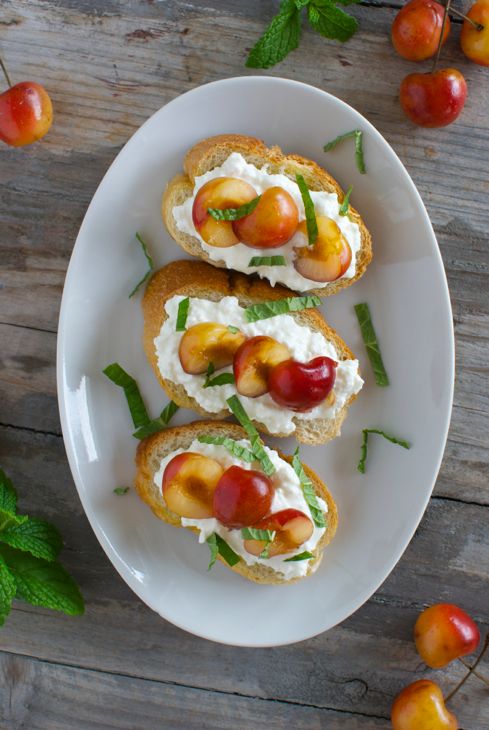 Fruit + Cheese + Fresh Herbs = Perfection.
You simply can't go wrong with this formula, no matter the season!
Whenever I need a quick and simple appetizer to serve (or to eat myself while I'm making dinner) I put together whatever fruit + cheese + herbs I have on-hand. It always turns out well, even when the combination sounds a little random.
Coming up, I'll be sharing some of my favorite crostini combos. The first is this Crostini with Ricotta Cheese, Cherries and Mint.
This is so incredibly easy to make, yet the unique flavor combination always gets peoples' attention, so it's fun to serve at casual summer gatherings where you still want to impress your guests 🙂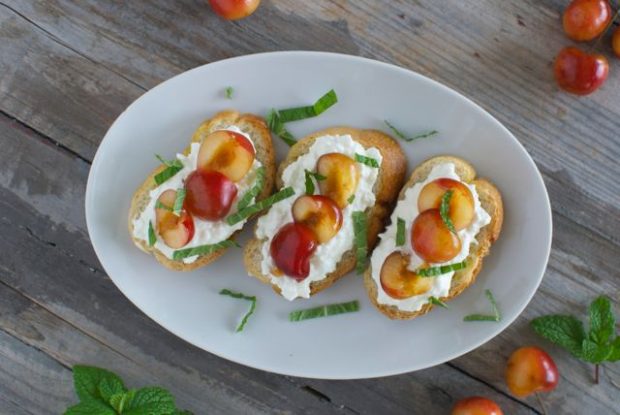 Crostini with Ricotta, Cherries and Mint
A unique way to feature delicious summer cherries!
Ingredients
Baguette slices
Olive oil
Ricotta cheese
Fresh red or Rainier cherries, pitted and sliced in half
Fresh mint leaves, rough chopped or torn
Honey (optional)
Instructions
Preheat oven to 350. Lay baguette slices on a parchment-lined baking sheet and drizzle with olive oil. Bake for 8-10 minutes or until crisp.
After letting crostini cool for 5 minutes, spread each slice with a smear of ricotta cheese.
Top crostini with a few cherry slices and top with fresh mint leaves.
Drizzle with honey if desired.